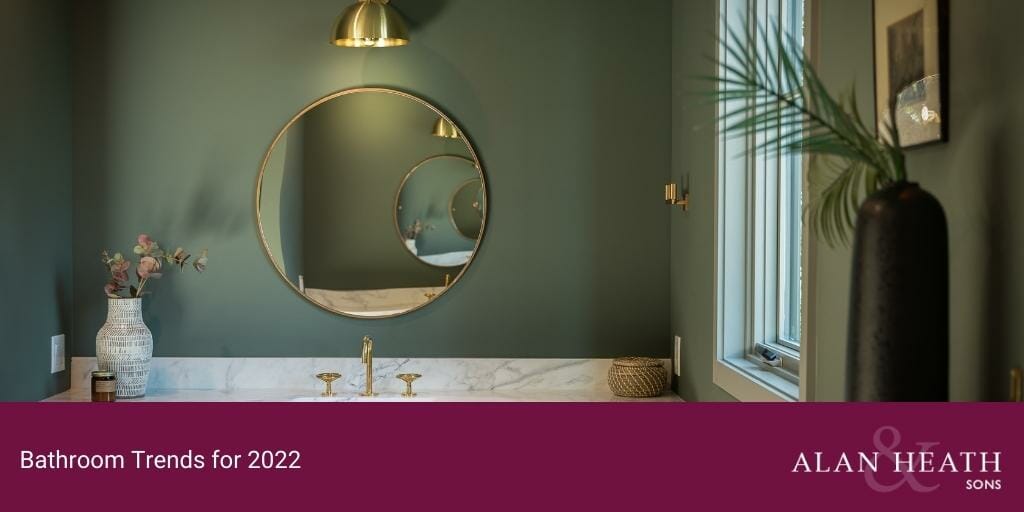 We've been looking ahead to the trends for 2022, and we're excited to share our predictions for the year ahead. A bathroom renovation is a big change, so you'll want to pick features that will stay in style for a long time. So, what's going on in the world of bathrooms?
Japandi bathroom trends
Japandi is a combination of Japanese minimalism and Scandinavian functionality. With its light touches, a spa-like feel for natural materials and comfort, Japandi is ideal for a simplistic, relaxing bathroom space. It's a style that's growing in popularity and will be here for some time to come.
A lovely blend of the two decorating styles, you can achieve your own approach to a Japandi bathroom by choosing neutral, earthy colours, keeping accessories to a minimum, and aiming for natural elements such as wood surfaces and plenty of plants.
Plenty of green
If you're interested in adding some bolder splashes of colour to your bathroom, green is currently a popular choice, bringing in vibrant tones that work well with your bathroom foliage.
The huge range of greens available mean you can be as bold as you feel comfortable with, from the glossy jewel tones of an emerald green to the sprightly apple green or classic country sage. The choice in shades also mean you can find a green to suit any bathroom, from traditional to ultra-modern.
Bring in foliage
Plants are also increasingly popular in your bathroom interior, helping us feel more in touch with nature and bringing the outside in to the smallest room in the house. Plants that are more suited to your steamy bathroom might include some trailing plants such as the golden pothos, spider plant, or English Ivy, or large-leaved choices like the monstera. If you want to keep to a more simplistic minimal plant, bamboo will also thrive in a humid atmosphere.
Earthy shades of terracotta
Again, keeping to the idea of a more natural outdoors feel to your bathroom, terracotta will be a popular trend in the coming year. Warm earthy tones and shades of apricot through to brick help give your home a Mediterranean feel. Combined with large tiles, your bathroom will feel more like a holiday villa – just turn on some beach sounds, close your eyes, and retreat to a calm and peaceful place.
Delightfully bohemian Soho
Soho styling is a luxurious blend of rich textures and artistic patterns. Combine bold patterns with dramatic colours, and a splash of elegance in your rich wood flooring or powerful rain showers. We love the feel of the Soho bathroom as a decadent space to splash out and enjoy. This is a space that suits deep, moody blues, and hints of gold.
Go big with wallpaper
Feature walls and big patterns have been making a comeback in our homes for the last few years, and now that trend is reaching our bathrooms. Go big with your bathroom wallpaper as the ideal way to bring in any shade of green or blue, while patterns can add foliage without needing space for plants or plenty of bohemian art. Wallpaper is a versatile decorating tool for a dramatic and instant atmosphere within a budget, and there are plenty of options designed for the wet atmosphere of your bathroom.
Overall, the trends for 2022 all lead to one place – wellbeing. After the last couple of years and the emphasis on spending more time indoors, we're seeing a general move towards making our homes more relaxing and better for our wellbeing, and that includes our bathrooms.
Whether you prefer the more minimal Japandi or luxuriously cosy Soho feel, your bathroom should be a place you love to use. If you're not sure how to achieve that feeling, speak with our expert bathroom design team about the possibilities. We'd be delighted to help.