Internet shopping might be best way to buy gifts these days, but when it comes to renovating parts of your home you really do need to visit a showroom. Alan Heath & Sons offers one of the finest bathroom showrooms in the Midlands; a place where you can feel the quality of the fittings and visualise your dream come to life.
So, what makes Alan Heath the right bathroom specialists for you?
Specialist bathroom fitters since 1974
Alan Heath first started working for himself in 1974. Family legend has it that he decided to go self-employed the day his son was born – a brave decision that has led to the family business we see today. The showroom in Coventry opened in 1989 and has been in the same premises ever since.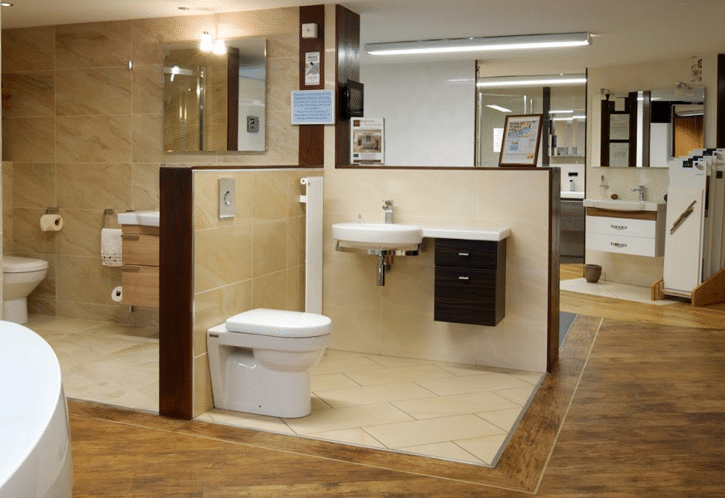 Why visit a bathroom showroom?
The bathroom is one of the most important rooms in your home, vying with the kitchen for that top spot. It's the place you start your day, and finish it. It's the room visitors are most likely to judge you on, and it's the space you retreat to for relaxing bubble baths as you unwind. There are many benefits of bathing.
So, you want to get your bathroom refurbishment right first time. You want to spend time creating a design that doesn't just fit your space, but makes the most of it. You need a company that you can trust, fittings that show quality, and accessories that add a touch of luxury.
Visiting our bathroom showroom lets you touch the products on show. We recommend that you feel the strength in the cabinets, turn the taps on and off, stand in the shower and assess the size. You can open doors, turn the lighting on the wall units on, consider the depth of the bath or the colour of the units.
Planning your bathroom in advance saves time and expense
When you visit a showroom you'll be able to meet the team first hand and get a better feel for the way the business works. It's an added level of reassurance for any homeowner.
You might already have found a product online, but being able to see and touch it in real life can paint a very different picture, and answer questions you might have. You can assess the build quality and visualise the size. Remember as well that colours on a screen can be very different from those in real life, something that is always worth checking before you buy to avoid costly mistakes.
Our bathroom showroom is regularly updated for new trends
Just like any room in your home, bathroom trends change over time. We regularly update our showroom to demonstrate new looks and products. In fact, you're likely to find a display update in progress whenever you visit, so there's always something new to see.
Let our design team help you make the most of your space
You're likely to already have some sort of layout or plan in mind when you visit. But don't be afraid to ask our design specialists for some advice; we can often come up with options that you might not have considered.
The best thing to do is write a list of the things that are most important to you:
What don't you like in your current bathroom?
What are your priorities?
Who is most likely to be using the bathroom?
What colours do you prefer and what will work with your house?
We also need the dimensions of your bathroom space, including positions of the windows and doors (There is a guide on our website that shows you what to do) and some photos of the space are a fantastic help.
Our team can then create everything from a simple suggestion to a complete CAD design to give you a taste of how fabulous your perfect bathroom can be.
Are you planning a bathroom renovation? Visit our showroom today.
Looking for inspiration? Read our bathroom design blogs here.