This is the Alan Heath and Sons ex-display section. Here, you'll find products that are priced at a lower cost than those on the rest of our website.
So, what's not to love?
If you're looking for bathroom products on a budget, our ex-display items may offer just what you need – at a fraction of the cost.
If you're looking for some ex-display items, we recommend getting in touch with us directly to discuss popping into the showroom to see what's currently available.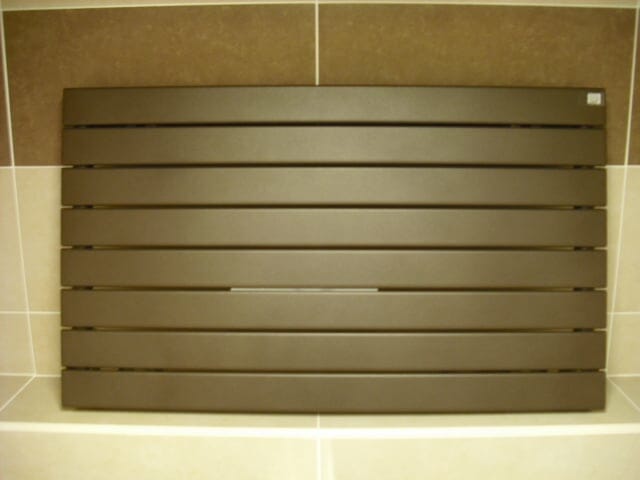 Roda 592 x 1000mm Radiator in Brown Quartz
Why are these products discounted?
Our ex-display bathroom products are displayed in the showroom for one of two reasons.
Firstly, they may literally be ex-display items that we've had within our showroom. That means they'll have been sat on a shelf and admired by customers, but they won't have been fully installed or used in a home setting.
Some of the products we display here will be items which have been incorrectly ordered and returned by customers. Therefore, they're essentially new, unused, and no different to the other products listed elsewhere on this website.
Whatever the reason for products appearing on this page, you can be assured that they won't have been used and are in the best possible condition.
Advantages of buying ex-display
If you're working to a very strict budget or simply want to find something at a fraction of its normal cost for your bathroom, ex-display is a great option.
Buying ex-display usually means that you get lots of bang for your buck and end up with a product that offers plenty of value for money.
It may save you time, too, if you happen to be browsing this page and notice something which may otherwise take you a great deal of time to research and find for the best price elsewhere.
A few things to bear in mind
It's important to remember that you may not have the pick of our products on this page. In our Coventry store we offer a huge range of bathroom products, from shower cubicles to lighting, flooring, and everything in between.
The products listed on this page are therefore only a glimpse of what we offer. We always recommend checking out the rest of the website to ensure you're not missing out on the perfect option for your bathroom.
It's also important to keep in mind that some of the products on this page may exhibit small signs of wear and tear, although that is likely to be extremely small, if at all.
Unsure? Contact us today!
We've long believed that visiting a bathroom showroom is the best way to find the ideal products for your home.
If you're unsure about buying from our ex-display line or can't quite find what you need, we'd love to welcome you to our showroom in Coventry. You'll be able to see and touch the products you're thinking about buying and experience the quality on offer.
Alternatively, if you'd like to chat about any of the ex-display items you can see on this website, just get in touch with our friendly team, today.