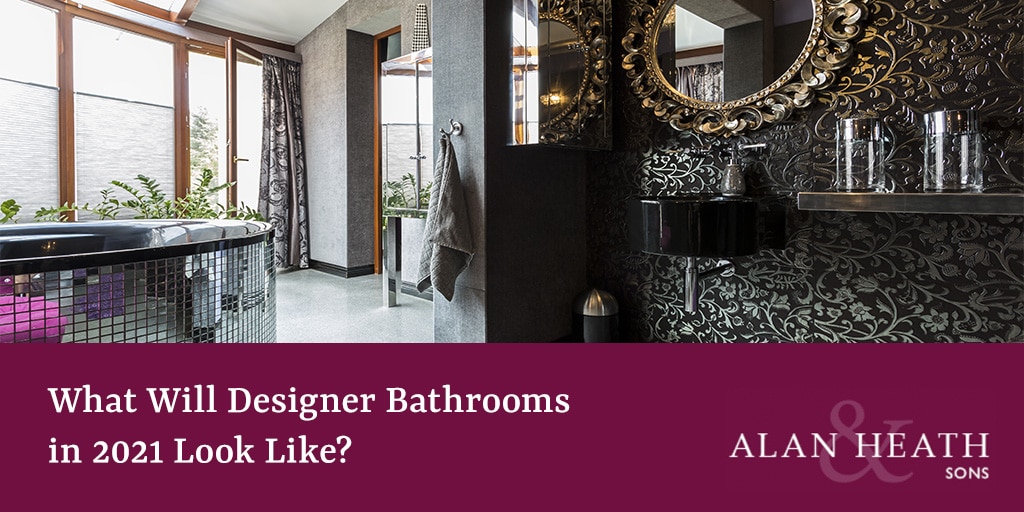 Let's put this year behind us and look ahead to 2021. It certainly feels like it's going to be full of potential, and many of us are already planning home renovation projects, including bathroom revamps. So, if you're refurbishing your bathroom next year, you'll want to know about the designer bathroom trends for 2021.
Some trends come and go
One of the trends that's here right now, and increasing in popularity, is to have black bathroom fittings. Glossy black taps, showers, frames around shower screens – there are plenty of possibilities, and black accents can look very glamorous and luxurious. But before you jump in, here's a little warning.
We've been designing and creating bathrooms for a long time now – so long that some members of the team can remember when dark colours were on trend the last time around. Have you ever been into an old bathroom with burgundy or sage green fittings? It looked amazing when it first went in, but there's a distinct problem with darker ranges. They're very difficult to keep clean.
Limescale and water deposits build up very quickly, leaving light marks across your glossy black taps. If you have children and teenagers, toothpaste and makeup spread out further than seems possible. And every single mark is highly visible, which means you'll either be cleaning daily, or fast falling out of love with your less-glam bathroom. This is one trend we think will be short-lived.
Some trends are here to stay
One trend that's rapidly becoming a fixture is wall-hung furniture. Wall-hung basins and vanity units, wall-hung storage units and wall-hung toilets and bidets – you've likely seen them already and the range of options is still growing. Hanging bathroom furniture on walls saves on floor space and can make a smaller room look larger. We think this is a trend that's going to be around a long time.
Another feature that we're asked for a lot is slim-lined items and minimalistic shower screens. The focus is very much on creating space and keeping a simple but stylish look.
Space and time are key features in our busy daily lives. Specifically, we all care about how to save them. So, while it's difficult to describe as a style, any bathroom feature or design that can help make your time in the room simple and time-saving has a psychologically satisfying impact, helping us love our bathrooms more.
You can have a designer bathroom in a smaller or a larger space, but if you're not sure of where to start or who to trust, then come and talk to our expert team. We'll help you work out the options that are best for you.