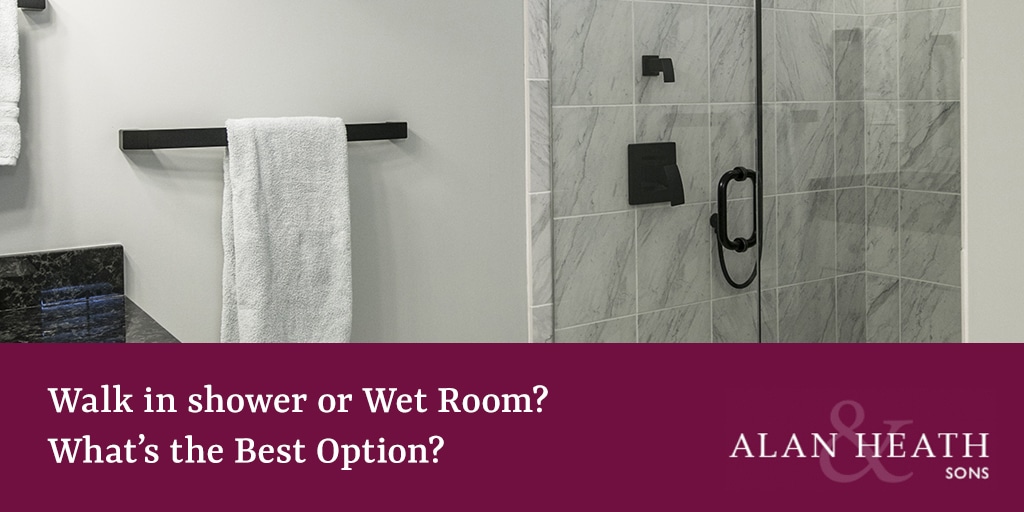 Who hasn't seen a movie scene set in a spacious, glamorous walk in shower? It may seem a luxurious option suitable for designer mansions, but actually walk in showers and wet rooms are becoming increasingly popular in modern home bathrooms.
If you're thinking of redesigning your bathroom to maximise space, or just because you prefer a shower to a bath, then these may be an option. So, let's consider the benefits.
What's the difference between a walk in shower and wet room?
There doesn't seem to be a single, clear definition for a walk in shower and a wet room, and so we all have a different idea of what each one is. As a simple guide, a wet room is an open-plan tiled room without screens that separate shower from the rest of the room. The floor will be sloped towards a drain set into the floor.
A walk in shower can simply mean a stand-alone shower, which you can enter without stepping over a bath. You'd generally have tiled floor or large shower tray, and a glass panel that contains the water to one area of the room.
In reality, at Alan Heath and Sons we can design your bathroom to be any combination of the two. If you prefer a fully tiled, sloping floor, but with a glass panel to reduce the splashing across the room, that's not a problem.
What are the advantages for each set up?
An open plan wet room does allow for more space, which may be necessary for homes where elderly or disabled people need more access. However, there's likely to be more splash in the room, which makes towels, toilet and other furniture wet, and more likely to be hit by soap suds and shampoos. Just think more cleaning.
We do find that a walk in shower is the more popular design. The room will still feel modern, spacious, and airy, while the splash is contained by the tray and glass screen. You'll still get splash from the open end, so you'll need a larger shower tray than normal. As always, as sizes increase, so will the price, although this is countered by the lower cost of the glass panel compared to a full glass shower enclosure.
You could choose a tiled showering area, which matches the rest of the room. However, tiles do mean more grout lines to clean, whilst it's far easier to maintain the appearance of the smooth surface of a shower tray. If you are unable to get the waste pipe under the floor you are going to need to raise the tiled tray to get the correct fall. This will detract from the clean lines of a level access showering area.
Do wet rooms or walk in showers add value to your home?
You may have already made up your mind, but if you're still thinking about it, there are a couple of other considerations. A shower cubicle is considered to be more fashionable, and it is a practical solution if you want a separate shower in a smaller space.
If you're renovating in order to add value to your home, it's unclear whether a wet room or walk in shower has a big impact. An estate agent will list it as a feature, which could appeal to mature customers who struggle to climb into the bath. However, a family with young children to bathe might find it off-putting.
When you consider installation costs, include any removals or changes to your bath, plumbing and tiling. The price is dependent on the size of the renovation. Really, it's probably best to add one because it's what you want, rather than for re-sale value. Having said that, a newly renovated bathroom does have more appeal than an older styled room to a potential buyer.
If you are ready for a new design, then it's really down to personal preference. We personally like the clean lines of a large shower tray and single glass panel. It's practical and easy to clean while still stylish.
If you would like to look at the options and work out what's best for you, come and see our Coventry show room! Make an appointment with our in-house design team on 024 7669 1469.