There are many areas of your bathroom than are more important than others to you, your bathroom, or your design. There's the suite that many will focus on, the colour scheme, or even the storage that can be overlooked.
It's a vast subject with many areas for thought and we do our best on this blog to answer as many of those questions as we can.
One of the areas we often talk about when people visit our Coventry showroom is tiles. The tiles in your bathroom will be a big part of your budget and will more often than not be the largest part of your bathroom. They can be seen as a backdrop and they don't always get the focus that they deserve.
We've blogged about the alternatives to tiling before and one of those options are bathroom boards. They offer a different look, feel, and design for your bathroom. Like all areas of your bathroom design, there is much to consider before making the choice.
There are cheaper PVC boards on the market too. You might be looking at using those and that's what lead you here. We're going to try to help you make your decisions here. Our advice is based on decades of experience and personal use of the products, so read on…
Here are some of the reasons you might want to avoid PVC bathroom wall panels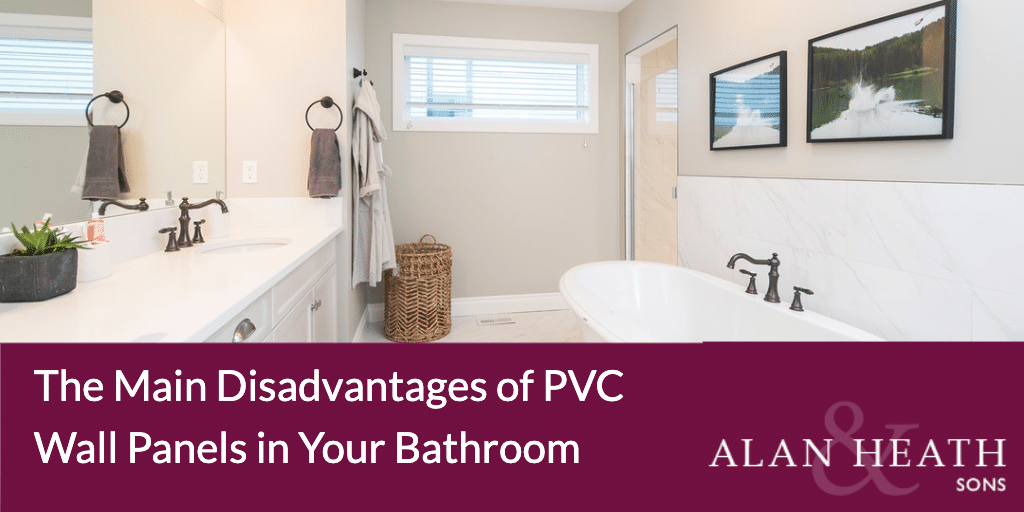 Great for shower cubicles; not for whole rooms
Boards can work well. Our director Gary has a Mermaid board in his bathroom… but only in the shower cubicle. They look great in this enclosed space and with the lack of grout lines can give slick and modern look.
The problem with PVC wall panels is that when you use them on all your walls you create something only seen in a movie… a horror movie! The clinical style and design you'll create can make your bathroom look like a hospital or if you have a more vivid imagination, an autopsy room!
They're easy to maintain and clean, but they're too clinical for whole room in our opinion.
Bathroom panels are more expensive than tiles
The better end of the market (where you should be shopping for long life bathrooms) are not a cheaper option. Yes, you'll be able to put one board up in a faster time that lots of tiles, but boards are not cheaper inch-for-inch.
PVC wall panels should be seen as a luxury in a cubicle or bath area to make a statement and the price certainly helps with that. They're not the cheap option you think they are when you do the maths on buying and fitting.
There are a limited choice of bathroom panels compared to tiles
When you're looking for tiles, you'll be spoilt for choice. You can find tiles of all colours, sizes, textures, and designs. The problem is rarely lack of choice.
Boards, however, are very limited. It's not unusual to find only a handful of options with your local bathroom showroom and even the manufacturer's sites list sub-50 designs. This might sound like a lot, but if you've ever shopped for tiles then you'll appreciate that you go through hundreds of designs and styles to find the right one that fits with your look.
You're limited on choice with bathroom boards.
Ceiling height can be an issue
With tiles, the sky is the limit. You can tile up forever! But with bathroom boards you'll find that the max length for most of them is 2.4m and that can lead to problems with high ceilings. Having a join in the middle (or at the top or bottom) isn't really the idea of bathroom boards although it can be done, but we think it ruins the sleek finish that they offer.
Tall bathroom? You might want to re-think bathroom boards.
Damage to your bathroom board? You have to replace it all!
We've all had accidents in the home and the damage needed to be repaired. If you damage anything in your bathroom then this will need doing quickly as the water could cause more damage if it gets to places it shouldn't.
Damage a tile? Ah, you'll just be able to take the tile out and replace it with a new one.
Damage a bathroom board? Erm… you'll need to replace the whole thing. It's more expensive… far more expensive. Thankfully both damaged tiles and wall boards aren't a common problem.
PVC is plastic and easy to damage
And it's easier to damage too. Plastic is hard and brittle and even when you fit it well there's more chance of a PVC board breaking than a solid and robust tile. Tiles are very forgiving on those bumps, scratches, and accidental whacks with the sports bag or electric shaver.
PVC can tend to crack and scratch.
PVC flexibility can be a downfall
PVC boards are flexible and the movement can sometimes mean that the silicon could break and this will lead to leaks. By the very nature of the product you're left open to a problem that you really don't want in your bathroom.
Is there another way…?
Most of the PVC boards you see around are a little on the cheap side and not something you'd want to work with. So we don't advise you use those.
We supply and fit Nuance Boards from Bushboard and Mermaid Panels – and they're fabulous.
Mermaid panels are fantastic because they come with a watertight 15-year guarantee. The material inside is WBP plywood, which, unlike ordinary plywood, is water-resistant. Bonded to this is a high-pressure decorative laminate which is impervious.
Nuance Boards are also really impressive and made from recycled products. The board is so well designed that after we tested it in here in the showroom, one of our members of staff was so impressed that he put it in his own bathroom! We took a piece of the board and immersed it in water for two weeks. It wasn't affected at all and no water was taken on by the product. Impressive.
To sum up:
Keep boards for single areas like shower cubicles
The quality boards work out more expensive than tiling would but they're fantastic
You're a bit limited on choice
Most will only go to 2.4 meters
Standard PVC boards are easier to damage which can be expensive.
However, if you opt for something high quality and stylish like Nuance or Mermaid panels you'll stand a greater chance of having something great in your bathroom that also gives a great talking point. Some even have antibacterial coatings, making cleaning easier.
Need more help? Come and see us in our Coventry bathroom showroom. We have lots of live displays on show and an expert team who can talk you through them all.