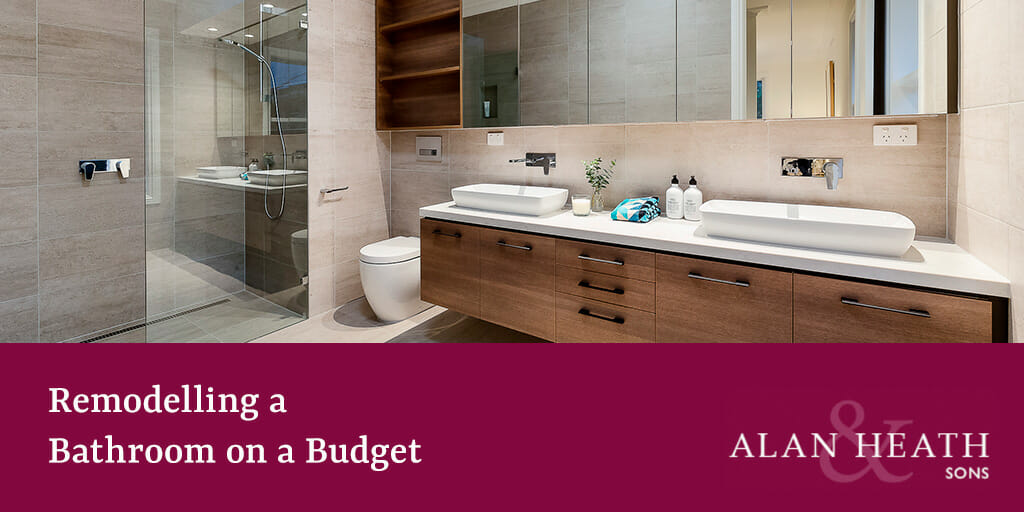 When walking into your bathroom feels like a necessity rather than a delight, you might well think it's time for a remodel. After all, it's the room in the house where you should feel pampered and relaxed. But just how much will that renovation cost?
We often say that the bathroom can be one of the most expensive rooms in the house to update, next to the kitchen. With plumbers, plasterers, electricians, and tilers to consider – as well as the bathroom suite and materials, there can be a lot of costs to factor in.
However, that's not to say that you can't make some changes to your bathroom on a budget. You just need to do your homework first. Be clear on the priorities and work out exactly how much you're willing to spend.
A simple way to refresh your bathroom
One of the most cost-effective ways for a new look is to give your bathroom a thorough clean. Over time your grout lines have likely become dirty, and limescale will have built up around taps and plugholes.
You can get some very effective bathroom cleaners from your local supermarket. Or, if you want a more natural, and possibly even cheaper, approach, try making your own. Baking powder, white vinegar, and lemons all form part of your DIY cleaning kit.
Once your shower screen is free of water marks, your taps are sparkling and you've decluttered the cupboards, you'll find your bathroom already feels a lot more welcoming.
Accessorise and step up your bathroom style
We all love a boutique hotel bathroom, or a luxury spa break. What's the one thing that makes these rooms feel so special? They've been professionally styled. We're not necessarily suggesting you call in an interior designer, but you can get a very similar feel by visiting your local homeware shops and refreshing your bathroom accessories.
Most shops will have a selection of matching pieces for your bathroom. Select a soap dish to match the toothbrush holder. Consider a new mirrored cabinet to hide your toiletries out of the way and give a stylish look. Choose a bright new linen basket and add soft new towels, and you'll soon be feeling a little more stylish. If your budget allows, select a new shower curtain, replace the window blinds, and hang your co-ordinating fluffy bathroom robe on the door. Now all you need to do it light some high quality candles, and you're ready for your spa experience.
Brighten and refresh your bathroom
The next step up, if your budget allows, is to make your room feel lighter and brighter.
Firstly, consider the painted walls. A nice clean splash of paint will do wonders, and if you decide to change colours at the same time, your bathroom will feel like it's a brand-new room. You can also make the whole space feel brighter with new lighting and mirrors on the wall. Have a look for bathroom inspiration on Pinterest, and you may find unusual lighting ideas that aren't limited to the ceiling.
However, this is where potential additional costs may start adding up. If you're painting the room yourself, you'll need to factor in the costs of buying paintbrushes and rollers. Changing a lightshade may be something you do yourself, but anything involving the electrical elements will require an electrician.
Updating your tiles and bathroom fittings
You might have decided your existing bathroom needs a little more than a fresh coat of paint. This is where you'll need to factor in more budget.
It's very rare that you can just re-tile a bathroom without any additional work required. You'll need to remove shower screens, bath panels, basins and, possibly, the toilet. As you take the old tiles off, you'll need a skip or other way to remove the waste. The wall behind the tiles is likely to need re-plastering and, once your new tiles are in place, the bath will need re-sealing.
If you choose to replace basins and toilets, the new models may not be the exact same shape and size – after all, you're looking for something new. That means exposed holes in walls from the old fixings, and gaps on the floor where the old tiles or carpet were cut to fit.
At this point it's probably clear that your budget bathroom remodel has become a more in-depth renovation, with repaired walls and new flooring.
Bathroom renovations to suit your budget
At Alan Heath and Sons, we don't believe in giving our customers unexpected bills. When we plan your bathroom renovation, we outline clearly the costs, along with different options so you know exactly what to expect.
If you do want to remodel your bathroom, come along to our Coventry bathroom showroom and talk to our design team. We'll give you a realistic idea of the possibilities and how to maximise your budget for the most impact.