No matter what bathroom you have and where it is, there's one thing that can really ruin the look, feel and use of it – disorganisation.
It sounds really uninspiring that, doesn't it?
But the fact is that even a sublime bathroom with all the best features and fittings will look a whole lot worse with dirty linen and wet towels on the floor or a plethora of different coloured and mismatched products strewn all over the place.
If you want an experience that's relaxing and calming then an organised bathroom should be high on your list.
But how do you achieve that? And how does an everyday bathroom achieve high-end organisation without breaking the bank?
Well as bathroom specialists, we've seen some great ideas in our time, so we thought we'd share a few of the simple and easy to implement ones with you.
Organise Your Cabinet
We bet you've got products, cleaning aids and other 'stuff' that you rarely use. Here's an idea – get rid of it, or store it elsewhere!
Clutter is one of the main enemies of serenity and you should look to decrease it wherever you can – especially in your bathroom.
So, get the stuff you use daily to the bottom of your cabinet and the stuff you use once in a blue moon to the top. Put the products you can't even remember using into a box for storage or better still, in the bin.
It's no use if it has no use!
As William Morris put it, "Have nothing in your house that you do not know to be useful, or believe to be beautiful."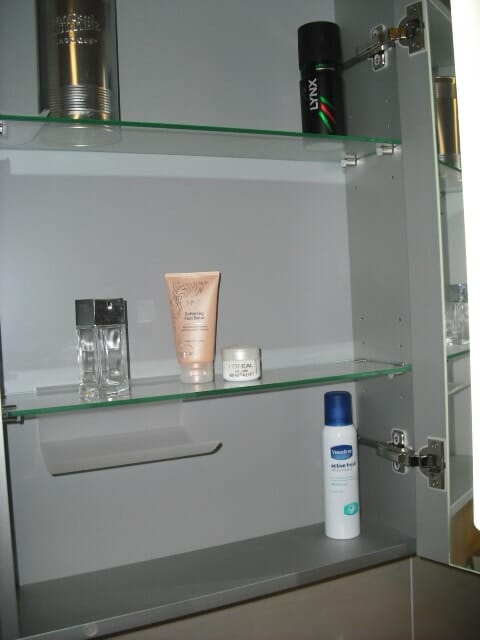 Be a basket case
If you do have a need for millions of products then we need to work on that. We don't want you to have to give up your luxuries for a sublime and peaceful bathroom – that would be counter-productive. We want you to store it and attractively instead.
Baskets are great for storing bathroom products for many reasons but the main reason is that they're airy, relatively inexpensive, and of course they look great in most bathroom designs and colour schemes.
De-clutter and get your products in order. Stack or rack your baskets and consider putting relevant items in each basket for even more organisation.
Add Some Pocket Bags To The Back Of Cupboard Doors
Simple cloth pockets that you can hang on your door are a really cheap and effective way to create a lot of storage and hide away clutter. They're readily available from most home stores like Ikea and will transform your bathroom in seconds. A Place For Everything is a great online shop for storage products too.
Work Out What You Really Really Need In The Shower
Let's be honest with each other for a minute. Do you really need all that stuff in your shower? Are you showering light? Or could you do better?
Having a clean shower (from clutter) is a much better experience than sharing your morning rush of water with half of Boots!
Get ruthless with your showering buddies. This isn't an eviction; it's just a moving day to a more spacious apartment… in a cabinet or basket elsewhere.
Sling Your Hook Over The Door For Extra Towel Hanging
Towels are an unavoidable resource for your bathroom and they're quite large so we need to home them sensibly and intelligently.
You can buy simple over-the-door towel rails that simply hook onto the top of the door. You don't even need to fit them, so Mr Drill can stay in the shed and you can also add more than one at different heights, for more rails.
Towel Rails – Stack Them Behind Your Door
If you're going for the more traditional towel rail then just repeat the idea above but with a more substantial rail.
Have more than one and you'll have 3 or 4 towel rails on the back of the door, in the perfect place to dry and store them.
All too often the side of the bath or shower door starts to feel like the ideal overflow towel rail, but that ruins your serene look and feel.
More towels? Use more rails staggered under each other. If your towels match that would be lovely, too. If you prefer to use your own towels you could get complementary colours or patterns.
Open The Door To Clever Storage
Securing small containers to the inside of your bathroom cabinet doors will give you an organised and swinging accessory storage idea.
You can use anything from plastic bottles of water for the extreme budget option, to made to measure semi-circle containers. You'll be amazed how much more space you'll have inside the cupboard when you strap some of the contents to the door.
Unify Your Condiments And Line Them Up Like An Army
Not all brands are the same and you probably have hand soap from one brand, shampoo from another and shower gel that was on offer last week.
This all adds up to a mis-matched rainbow of plastic that's unlikely to match your bathroom design.
Get smart. Buy identical empty glass or plastic dispensers and put all your products in those instead. Not only will it give you that hotel look, it will make sure all your bottles match when you find the right dispensers.
Have Your Own Cabinet Meeting
If you have a large family then chances are that you have loads of items in your bathroom belonging to everyone and anyone.
Organise your bathroom by giving everyone a drawer or area in a cabinet or unit. By designating them all a space you'll make sure all the clutter goes away and everyone is responsible for their own stuff too.
Use Above Your Head – Add A Shelf Above Your Door
Adding a shelf above your bathroom door is a great idea (even if we say so ourselves). It's been used quite a lot in the bathrooms we've seen over the years and it's really very simple and effective too.
The space above your door is pretty much dead space. Good for nothing except… well, a shelf actually.
Put your spare loo rolls, towels or baskets full of those shower items that you rarely use.
Out With The Old – In With Space!
Have an audit of your products. Seriously – get all the products out of your bathroom and only put them back if you need them. Why take up precious space if you don't have it with items that you really don't need?
We've all done it. Been to a hotel and bought back all the samples, kept them 'for best'… and then never used them.
Your bathroom is not a museum of artefacts lifted from 5 star stopovers. Use up the freebies, give them away, or clear them out.
Use Cutlery Dividers In Your Drawers
If you have drawers in your bathroom then you'll love this. Get a cutlery drawer in place to separate your contents so that they're easily found and organised into different sections.
Just adding this to your bathroom changes your mindset on putting things back where they live – and hopefully everyone else's. Welcome to a whole new way of thinking.
We have a vanity unit with dividers in already. The Burbidge and Villeroy & Boch units have dividers and plastic trays all set to go if you're looking for a more refined look and feel. (cutlery drawers have limitations).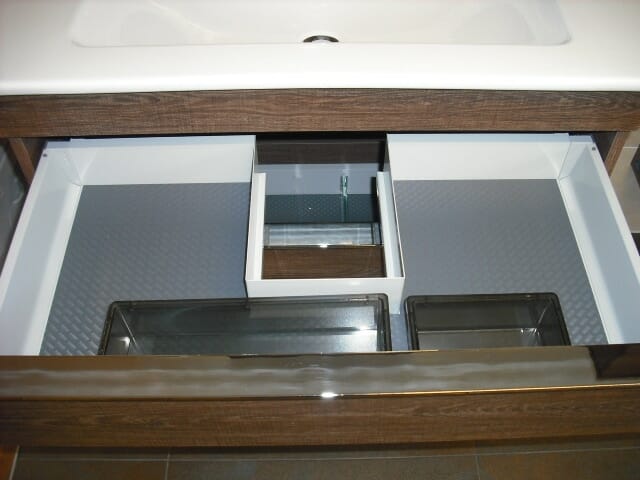 Organise, De-clutter And Use Up Dead Space.
Welcome To An Organised Bathroom!
So there you go. Some simple, cost effective and dare we say(?) weekend jobs to implement into your bathroom.
An organised and clean looking bathroom feels different but it also works better too.
Get everything you need to hand and everything you don't need filed away.
Accept that some things need to be on hand but make sure they're well stored and matched with your bathroom.
Too much colour, clutter and shapes can really disturb the simple feel of a bathroom.
Don't believe us? Go and clear out your bathroom and look at it without all your life in there… trust us – it's better clean and organised.
If cleaning and organising isn't enough for you and you need a refurb to fully make the most of your bathroom space, contact Alan Heath and Sons to discuss your options.