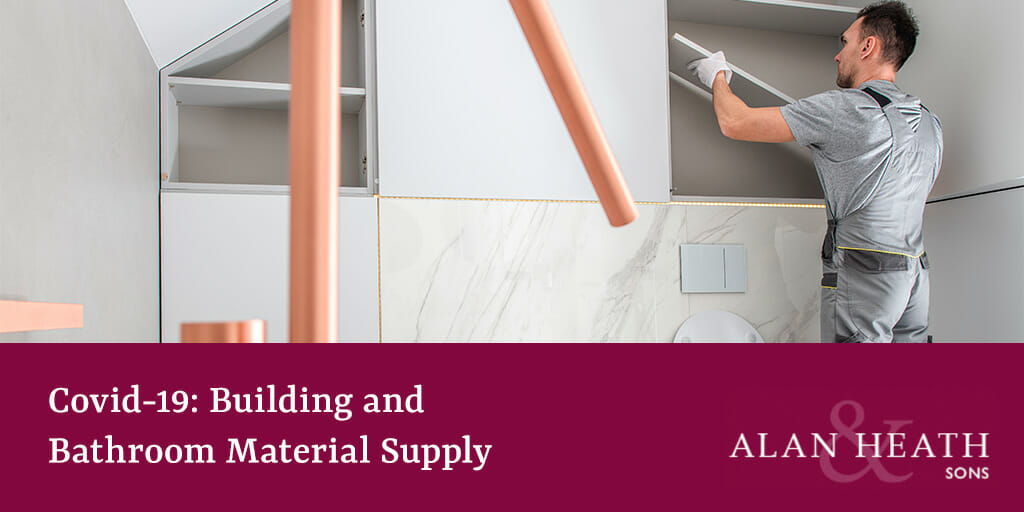 The pandemic has had unprecedented impacts on our work lives and our home lives, and we're still feeling the effects in different ways.
For us, one of those impacts has been on the supply of bathroom and building materials. Whilst there have been supply issues throughout the last 18 months, it's been worse than ever recently, in part due to the labour shortage caused by the 'pingdemic'.
The Builder Merchants Federation (BMF) reported that with so many staff going into isolation after receiving an alert from the NHS app, builder's merchants, material suppliers and manufacturers are all facing a huge challenge. John Newcomb, CEO of the BMF, said that the end of June to mid-July were described as "the most challenging of the pandemic by some members".
With demand for materials being higher now than in the last 30 years, the BMF are calling on the government to find a solution and exempt the relevant workers from isolation requirements. Supporting members and representatives from nationwide firms such as Travis Perkins and Marshalls echoed the call, with Paul Bence, managing director of Cheltenham-based independent builders' merchant George Bence Group, adding: "Currently, 15 per cent of our workforce have been affected by self-isolation this week. None of them have tested positive for Covid-19. With it also being staff holiday season, we have been operating on a skeleton staff basis in many areas".
Earlier reports from the BMF also highlighted the impact that increased demand was having on delayed deliveries and rising prices. HGV drivers are in short supply, with limited slots available for new drivers to take their tests and 30,000 tests cancelled during the pandemic. The Road Haulage Association recently provided figures to show a deficit of 60,000 lorry drivers, with 15,000 European drivers leaving the UK.
At Alan Heath, we're committed to honesty as a key part of our customer service offering. We will continue to keep our clients informed about the developing situation, letting them understand any impact this might have on their renovations and having alternative plans in case they're required.
If you have any concerns about your bathroom renovation or the current impact on industry supplies, please contact us for more information on 024 7669 1469.