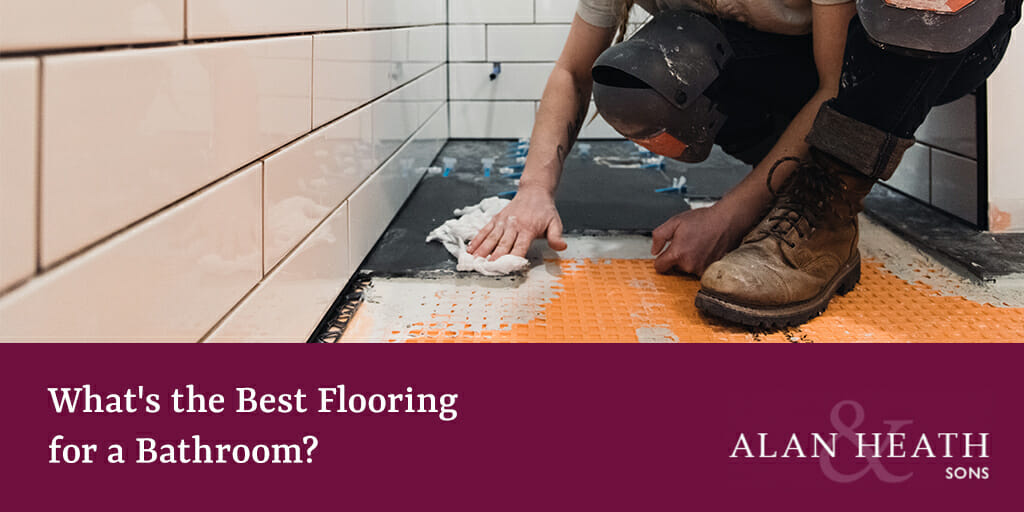 You've made the decision to renovate your bathroom, picked out the perfect bath, and discussed the pros and cons of a walk-in shower. Colour schemes and tile choices have been made – but there's one area left, and it is arguably one of the most important.
What kind of flooring is right for your bathroom?
Throughout the rest of your home, you'll have chosen your flooring based on comfort, cost, and wear and tear durability. In the bathroom, there is another essential consideration. Water.
Your bathroom floor will be subject to high levels of moisture. Sources include condensation, drips from the shower, and deluges from the children's baths. So, you need to factor in water resistance and grip as well.
Vinyl Flooring for your bathroom
Vinyl flooring remains one of the most popular choices for your bathroom floor. Cost-effective and durable, vinyl is relatively easy to install as well. Due to its popularity, vinyl comes in a huge variety of styles, so you can easily find something to suit your colour scheme and tastes.
When you do lay vinyl flooring, you need the underflooring to be as smooth as possible, as every lump or floorboard line will show through over time. It's also possible to tear if you drag heavy furniture with sharp feet across it. But, being relatively low-cost, vinyl is also simpler to replace more often if you need to or feel like a style or colour palette change.
At Alan Heath, we recommend and fit Karndean, a luxury vinyl floor brand. Compared to mass-produced budget vinyl, we feel it is far more hard-wearing and therefore offers more in terms of longevity, as well as having a wide range of realistic wood and stone designs.
Laminate flooring
Another popular choice for your bathroom floor is laminate wood planks. Laminate isn't really wood; it's layers of resin, paper and wood fibres fused together, and laid on a plywood backing. Although it doesn't sound like a good idea for a wet area, laminate flooring can be an option as long as it's well fitted to reduce gaps between the planks, which restricts water from reaching the inner layers.
However, it is important to remember that laminate flooring that is classed as suitable for bathrooms will be 'moisture resistant' and not waterproof. Therefore, if the top layer of your board is damaged, water will get in. Laminate is not easy to repair, so if there is damage it's likely the entire floor will need to be replaced. So, while it's relatively low-cost and stylish, it may not be the first choice if you want something that lasts for generations.
Wood flooring options for bathrooms
After laminate, the next option in your bathroom might be engineered wood, particularly if you really want that real wood effect. It's more stable in high moisture zones than natural wood and has a plywood base. However, the top layer is hardwood, which gives the style of natural planking, but means it may be affected by too much water.
Solid wood flooring has very little protection against water damage, aside from its waterproof coating. At the end of the day, water and solid wood do not mix well, as water will rot the wood if it gets inside. So, if you really want wooden floors in your bathroom make sure you get plenty of advice on care and regular treatments to protect it.
Floor tile choices in your bathroom
Tiles are probably the most popular type of flooring after vinyl. Available in different sizes, shapes and styles, there is a price range and a colour to suit every home.
Porcelain and ceramic tiles are a fantastic choice for a bathroom. Although they are made of different materials, they do share many of the same benefits. Hard, durable, waterproof and cost-effective, tiles tick every box. They can have textured or matt surfaces to create the effect you prefer, and that also makes them less slippery, which might be a consideration with children, elderly people, or those with physical disabilities.
Tiles are also versatile when it comes to your heating choices, working well with both under-floor heating and radiators. They are very easy to clean and stain resistant, although you still need to be aware of your grout lines.
The right bathroom floor to suit your lifestyle
Whatever your bathroom floor will be, it needs to suit your lifestyle and your budget. If you have young children, you may be more concerned about the amount of overflow from the bath and standing pools of water. Vinyl would be a great choice. Whereas, for the adults-only en-suite, splashing out on a more luxurious tiled floor is more feasible and adds more a touch of glamour to your sanctuary.
At Alan Heath and Sons, we find that we install a new floor on the majority of our bathroom installations, and we are experts in fitting Karndean vinyl or porcelain tiles for a beautiful finish.
For advice on your bathroom design and the options available, contact us today on 024 7669 1469. Our expert designers will discuss the pros and cons and help you make the best choice for your home.