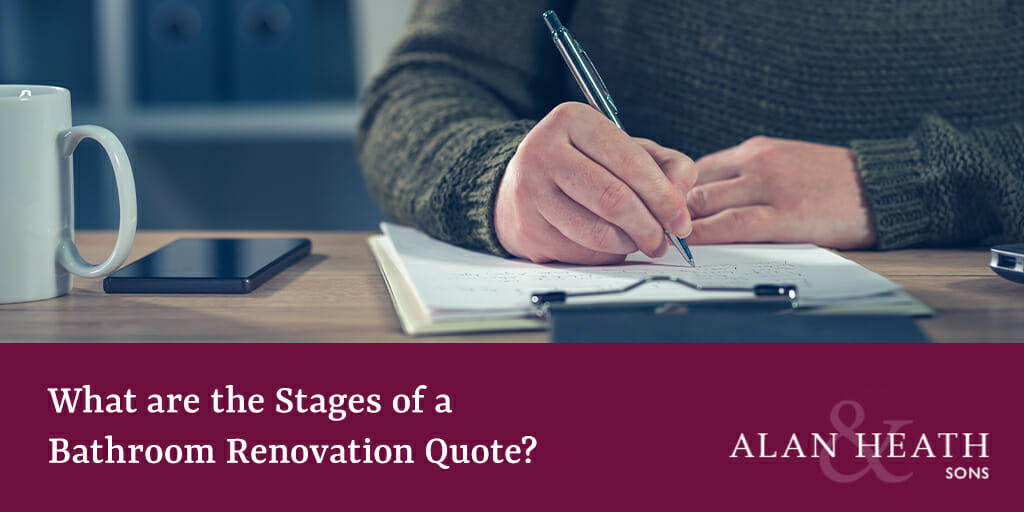 Over the last year we've all spent a bit more time looking at our homes and thinking about what we like about them – and what we would love to change. Bathrooms remain one of the most popular rooms in the house to renovate, but bathrooms are rooms that are most likely to need professional help. It's always a sensible idea to get a quote to see just how much your bathroom renovation will cost before you begin. So, what's involved in getting a good design and quote?
Visiting our design team for your bathroom consultation
When we're operating as normal, we can, of course, work with you in our showroom. The first step is to take some measurements and photographs of your existing bathroom and book an appointment with our design team. We'll ask the right questions about who uses the bathroom and what your preferences are, and we'll discuss what needs to be included.
Don't worry, we're not about to pressure you with a hard sell. It's simply that we have plenty of products here with different options that might suit your space, so you can picture the possibilities and decide exactly what you need.
Visualise your bathroom space with design software
Our design team will also sketch your bathroom with our design software to put together an initial plan. This gives you a chance to see exactly what a designer can do to help you, answer any questions about timescales and costs, and assess whether there are any obvious complications to consider, such as awkward corners or sloping ceilings.
As we discuss the potential of your bathroom, we can clarify what you need – for example, space-saving basins, a family bath, or perhaps a separate walk-in shower. You can see and touch the products we display, which can help filter out styles so you end up with a bathroom you love and enjoy spending time in.
Assess your quote and fine tune the plan
After our first meeting we'll add more detail to the design and specifications and put together a complete quote. Then we'll arrange another consultation with you to answer further questions and discuss any ideas we have that may enhance your design even further. Experience tells us that once you've had time to mull over the quote you may have potential alterations in mind as well.
We'll re-visit the showroom to confirm which products you prefer and confirm the details. Once we're confident you have the perfect bathroom for your home, we'll fine-tune the quote to confirm the changes, making it perfectly in line with what you want and need. Finally, you'll be asked to place a deposit on your renovation, knowing exactly what to expect in terms of timescales, design, and quality of your new bathroom.
Lockdown bathroom renovation planning
Understandably, we've had to make changes to the way we provide quotes due to social distancing and lockdown rules.
At these times we ask you to take measurements and photographs of your bathroom and email them to us. We'll then schedule a telephone consultation, where our design team can discuss exactly what you would like to achieve from your bathroom renovation and understand your priorities.
We'll discuss the options and provide you with advice on your options, the timescales involved and the potential costs.
Then we will put together a clear quote with a design and specification, which we will discuss with you in a video call, giving you plenty of time to ask any questions. We'll also email your quote and images of any products we've discussed, so you have a clear idea of what to expect.
We'll work with you to ensure every detail is correct and works with your available space. Then, we'll ask you to place a deposit, and book your pre-installation survey to begin planning the work.
Book your consultation today
Of course, the very first step in your bathroom renovation is making the decision to start.
We'd love to help you there, so please contact us today on 024 7669 1469, and our experienced design team will be on hand to answer your questions. We look forward to helping you to create your dream bathroom.