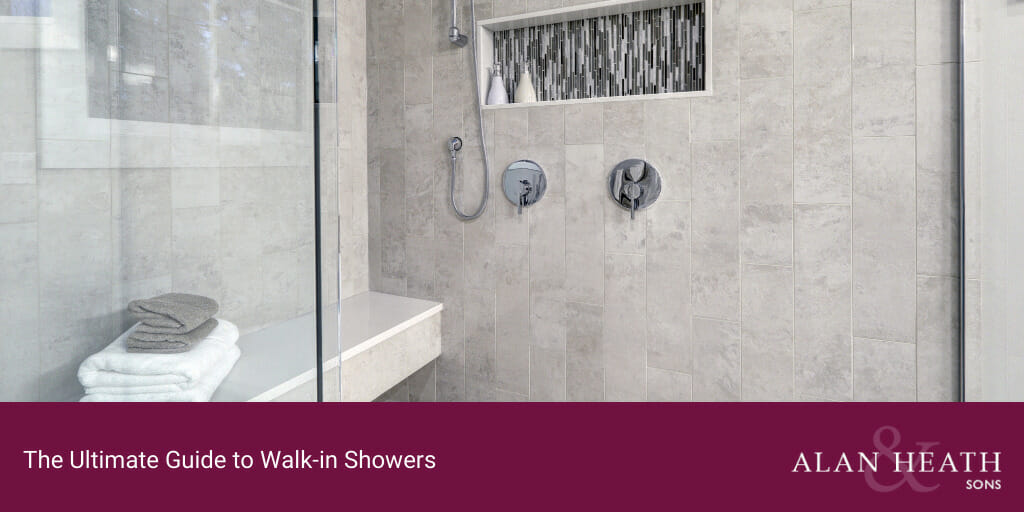 We recently blogged about wet rooms on this blog. Wet rooms are very fashionable and often seen as a luxury addition to a home. Walk-in showers are often seen as the same thing or confused with them. A walk-in shower is like a wet room but with a few key differences which we'll explain first.
Thinking of installing a walk-in shower in your home? Here are some areas to consider…
What is a walk-in shower?
A walk-in shower is often a shower without a door (usually a glass panel instead) and certainly not one within a bath. The design of a walk-in shower tends to be very sleek and minimalist with clean lines and clearly the ability to simply walk in, (Yes, the clue's in the title!) but there are numerous types of shower doors available so you can choose one to match your tastes.
A walk-in shower is designed to be integrated with the rest of the bathroom. The idea is that the shower is part of the room; not a cubicle in it. Walk-in showers are generally showers without a door. We find that mainly people will have a large shower tray installed perhaps with a glass panel, so there could be a little step of the height of the tray. That said, some of the trays are as low as 25mm and when you then tile the floor up to the tray the step can then be smaller. They're very accessible as well as being an attractive bathroom feature.
How is a walk-in shower different from a wet room?
The main difference between a wet room and a walk-in shower is that in a wet room is completely open plan with the water flowing away through a drain in the floor. A walk-in shower will typically have a lower-level tray and its own drainage. Both can have an open plan feeling to them.
Are walk-in showers suitable for large or small bathrooms?
Walk-in showers are ideal for both small or large bathrooms and are often a direct replacement for a bath. If you're replacing the bath with a shower then a walk-in shower is certainly an option as the plumbing can often lend itself to the change without anything too major having to be done.
In a small bathroom you may well find that a walk-in shower helps to give the illusion of space. In a small room, walk in showers, although quite often possible, are not likely to save space as an open shower area will require the tray to be larger than an enclosed shower cubicle, therefore taking up more floor space. To counter that, it will look more open so can give the feeling of being more spacious.
Advantages of walk-in showers
There are plenty of good reasons to opt for a walk-in shower in your bathroom. Many of our customers like the simple design, while others prefer the safe nature of a walk-in shower due to the lack of barrier to getting in.
Here are a few of the main benefits of a walk-in:
Design – One of the first main advantages is the look and feel of a walk-in shower. You'll get a sleek design with minimal lines thanks to the frameless glass divides. Once you remove the need for a door you create a design that's easy on the eye and really adds to that modern bathroom look and feel.
No more door (or curtain) – Yup, no more door or curtain. Just walk in. It's easier to get in and out, and it's easier to clean, too.
Overhead shower and water jets – A walk in shower often gives you the ability to have an overhead shower with cool features like 'rain' or powerful jets for washing and recovering from physical exertion. You may also be able to add some massaging jets to your shower walls too.
Cheaper than a wet room – As there's less work to put in a walk-in shower over a wet room, you'll find that fewer materials are needed. You won't need to tile the entire room, so a walk-in shower is less expensive than a full wet room and still offers some of that modern luxury that a wet room can give.
Things to consider before purchasing a walk-in shower
Loving the design and style of a walk-in shower? Here are some things to consider before you take the plunge…
A walk-in shower can cost more than a regular shower, but it depends on the size and type of shower cubicle you'd like. For example, the shower tray for a walk in will be larger, so more expensive, but the glass panel is likely to be less expensive than a cubicle.
Not all homes will cope without a bath, so be consider this first.
The value of your home may fall because many still want a bath. That said, we're finding more and more homes are not having a bath, so I think this is becoming less of an issue.
A walk-in shower is easy to maintain.
It's very suitable for the elderly due to the lack of barriers to get in.
They're not so ideal for a young family who tend to need the bath for babies' and toddlers' bath times.
A walk-in shower works in a small or large bathroom although a bigger bathroom is better suited.
They're cheaper than a wet room. Want that modern wet room but don't have the budget? A walk-in shower is a good compromise. A shower tray is far easier to keep clean than a tiled shower tray wet room floor.
We love the flow of a bathroom with a walk-in shower but we're very conscious that this needs to work with your home and family. They're easier to clean and get in and out of but if you need a long soak in the bath every now and then this will be an area you need to think about before making a rash decision.
Ideally a large bathroom is best but those sleek lines and simple look and feel can often transform a small bathroom. Need some help? Chat to us now – we'd love to help!