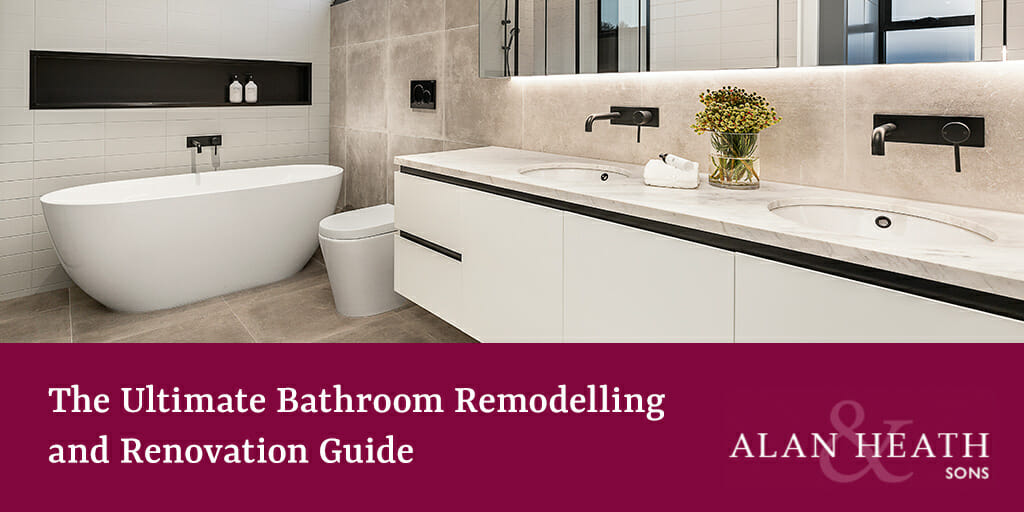 So, you've decided to go for it and treat yourself and your family to a new bathroom. How exciting, the bathroom really is the hub of the house, it's where we go to relax, hide, start our day and end our day- so it's only natural that you want it to look spectacular.
But what's involved in a bathroom remodelling project? What will you expect to happen? Can you do it yourself? Do you need to hire a bathroom renovation company to do it for you?
We've got a load of great content on the blog so we felt it was best to round up the best ones to read, right here, all in one place.
Fail to Prepare, Prepare to Fail
Designing a new bathroom is an exciting time, but it's essential to take the time to plan and make the right decisions. Fail to prepare, prepare to fail as they say.
Get it right and you'll have an amazing space that you'll enjoy for many years to come. Get it wrong and you'll regret aspects of it and in the worst cases, you'll have to start again!
But what do you need to prepare for?
We've completed a lot of bathrooms over the last few decades, and we've seen some brilliant designs and ideas, but we've also seen some very daft mistakes. (Not made by us, of course). We've even got a great blog on 9 ways to ruin your bathroom planning, so check that out on what NOT to do before you start! But for the meantime, this is what you need to consider.
How Big is the Bathroom Project?
When we say bathroom renovation or remodelling, that doesn't always mean completely ripping out and gutting the entire bathroom. It can be as simple as changing the worktops or other aesthetic features. If all the basins and fixed bathroom features work well for you then perhaps the aesthetic of flooring and walls just needs changing.
Or, on the other end, you can rip it all out and start from scratch. Work out what it is you really want.
However, consider this. If you want to change basins/baths which use plumbing, you might be a bit out of your depth (in the nicest way possible!) So, make sure you understand the enormity of what you might be taking on.\
Here is another blog we offer around this:
Bathroom Design: What Should Every Bathroom Have?
Budgeting for a Bathroom Renovation
Ah the awkward topic. Money.
When you're working out how to budget for your bathroom renovation there are a number of costs to consider, some of which may not be so obvious. There are a few questions you need to ask yourself. Is this bathroom a quick fix, or one you'll be using in ten years' time? Are you renovating a rental property or a house you intend to sell for a profit? What kind of bathroom are you looking for?
You might have factored in the costs of your new bathroom suite and tiles, but there are plenty of other things to consider.
If you are having a big renovation, you'll need to outsource to electricians for lighting, power showers and chargers, plumbers for piping and waste, plasterers and tilers. While you might be brave enough to do some plumbing yourself, you should never touch electrics unless you are a qualified electrician.
There's also the costs of parts that you won't even see to add to the price. Wiring, copper and plastic pipes and fittings, plaster, studwork, timbers, electrical switches, back boxes and a skip for the waste
Don't do it on the cheap either, because renovating is a time-consuming process and you don't want to be doing it twice.
DIY vs Hiring a contractor
As we've mentioned, DIY can sometimes be more costly than hiring a contractor, especially if you're doing a full complete refurb that involves electrics, plumbing or plastering. You have to rely on your own DIY skills to make a repair that's strong enough to last. If that doesn't work, you'll need to call in a tradesman. With every call out, the cost of your budget bathroom goes up rapidly.
If you've never worked as a tradesperson, you'd be forgiven for not knowing the ins and outs of construction, design, fitting and more. Fortunately for you, Alan Heath & Sons have a combined experience of over a hundred years. Yes – that's a long time! We know our stuff, and we're more than happy to help you get the most out of your investment.
When it comes to refurbishing your bathroom, here are five compelling reasons why you need a bathroom designer, not just an installer.
You got the time for that?
There's one room in your home you rely on more than any other, and that's your bathroom. So, when your bathroom is out of use during renovations, time really is of the essence.
Unlike a kitchen, where you can made do with a microwave and takeaways for a few days or weeks, temporary solutions to replace a bathroom are more limited. Some homeowners may be lucky enough to have a second toilet in their home, while others move out completely. But there's one question everyone wants an answer to; "How long will my bathroom renovation take?"
Truthfully, there's no definitive answer. On average we might say two to three weeks, but it can be longer depending on what else is impacted during the project. Always ensure that you account for any delays; they can happen – especially during DIY
DIY Bathroom – Money Saving Tips
There're multiple accessories in a bathroom you can change to upgrade or refresh it:
Bath
Sinks and taps
Toilet
Cabinets
Mirrors
When it comes to bathroom renovation, you're probably working to a budget. Budget doesn't necessarily mean you're being cheap, either. But when working to a budget you'll be looking to spend in some areas and save in others.
Saving money on a bathroom renovation is possible… so long as you know-how. We often come across this discussion online and wanted to share a few things and ideas with you.
When it comes to renovations you can save money in places, but there are certain places where we recommend you don't scrimp.
Another blog we offer around this:
Bathroom Renovation: Where and When to Save Money
Choosing your Bathroom Suite and Materials
Choosing your bathroom suite and designing the style of bathroom you want is the exciting part of any renovation. Are you aiming for simplicity – white tiles and furniture? Do you want something that feels a little more natural, with woods and natural stones? Or are you hoping for some decadent luxury and a boutique hotel style?
There are a lot of options to choose from. The shape of your bath, the style of your taps and the amount of storage you need all factor in.
You also don't have to have tiles. Wallboard or bathroom wall panels are an option you might not have come across.
Although most bathrooms are tiled today, back in the 70's wallpaper was very common. You can still find it in bathrooms today, although perhaps not so often. But, wallpaper in the bathroom does have advantages, as long as you don't use it in the obviously wet places such as the shower.
Wallpaper can be cost-effective, add colour and style, and is a simple way to cover a poor quality wall. But it has disadvantages too – so it's important to factor everything into your decision making.
Lighting sets the mood for your bathroom
Lighting is also important to the overall look and feel of your bathroom
By day your bathroom is hopefully basking in bright natural daylight. Roll up the blind and get some bright white tiles and some big mirrors to reflect all that lovely natural light around your room.
But as the sun goes down and dusk sets in, your bathroom becomes a totally different place. The spotlights come on, the cabinet light comes into play and if you want a bath, some lit candles make a world of difference.
Lighting in your bathroom is a powerful way to change the mood and add some quality to your bathroom. We're seeing more and more bathrooms having feature lighting fitted, so here are a few ideas to get your senses excited.
Good bathroom storage is a must!
Good bathroom storage will do so much for your bathroom. Storage might seem like a fairly innocuous area of your bathroom design, but with poor storage comes a lot of issues you'll wish you'd considered.
Many 'showroom' bathrooms are working examples with functioning taps, toilets, and cupboards, but they lack the inner workings of your bathroom. No, not the pipes and water – the everyday items you take into your bathroom.
Without good bathroom storage, a beautiful bathroom can look cluttered and very messy, very quickly, and that's a real shame… and also very avoidable.
Some other blogs we offer around this:
Bathroom storage makes your bathroom look bigger.
Storage is key in a small bathroom.
Which flooring should you use in your bathroom?
Colour schemes and tile choices have been made – but there's one area left, and it is arguable one of the most important. What kind of flooring is right for your bathroom?
Throughout the rest of your home you'll have chosen your flooring based on comfort, cost, and wear and tear. In the bathroom there is another essential consideration. Water.
Your bathroom floor will be subject to high levels of moisture. Condensation, drips from the shower, deluges from the children's bath. So, you need to factor in water resistance and grip as well.
When you live in an old house with beautiful floorboards, you might think these would make a good feature. Sanded, varnished or painted, natural wood flooring can be very beautiful. But remember that in the bathroom your floor needs to be as close to 100% waterproof as possible. Wood and water are not a great combination. So, you'll need advice on how best to treat and seal your floorboards.
Ventilation – first thing in, last thing you consider!
Your bathroom is finished, the workmen have left, and you go straight in for the first long, hot soak. And then – as the bathroom mirror steams up and condensation runs down the window, you'll realise that the one thing you really need in your bathroom is good ventilation.
Extractor fans and de-misting mirrors are great ways to keep the moisture under control, but the electrics for these need to be considered at the very start of your bathroom renovation.
Why does it matter? A moist bathroom is a wonderful place for mould to grow, and that's unhealthy for you and your family. Mould loves darkness, moisture and warmth, so when we are planning your bathroom design, we make sure that we make it as simple as possible to create a space that's comfortable for you – and not for the mould.
Bathroom design involves a lot of planning.
So, you can see that there is a lot to consider in your bathroom re-design and renovation. If you're set on a DIY bathroom, then this guide has given you plenty of pointers and highlighted the key elements to consider.
Of course, we can't cover every eventuality. Every bathroom is going to have its own quirks – in shape, size, access to the plumbing and electrics, or even in overcoming issues in the delivery of your suite or where to put the skip.
It's important to recognise where you have the skill and time to commit, and when it will be a better option to call in an experienced bathroom designer. Our team at Alan Heath and Sons have years of experience in dealing with quicky builds and can advise you on the various suites, manufacturers and tradesmen you need. Call us today for a chat on 024 7669 1469 or visit our Coventry showroom.