Dream bathrooms can often seem out of reach. Movie star quality and footballer extravagance is not the type of style many of us can afford. At Alan Heath and sons we create designer bathrooms, but even we admit that some bathrooms are simply out of this world and not something the 'normal' home owner would ever consider, let alone afford.
This week on the blog we wanted to share some rather amazing bathrooms. We wanted to share some bathrooms that are out of this world. Bathrooms that, without a movie star wage, us normal folk would never be able to afford. Inspirational stuff!
Here are a few of the most amazing bathrooms to make you wish you had a rich uncle or a small fortune hidden under the floorboards!
Bathrooms by Royal appointment
Her Majesty the Queen uses the bathroom. We know that's a strange thing to think about, but she does! Without going into detail, she's just like one of us when it comes to sitting on the other sort of throne.
But something that's not like us is the extreme number of bathrooms she actually has. The Queen has 78 bathrooms in Buckingham Palace. Even if you visited each one twice a day that's enough to make sure you don't use the same bathroom for a month! It's the cleaners we feel sorry for.
Madonna's Bathroom – Room for two?
Madonna, the original queen of pop, has a few bob or two, so it stands to reason that she has a nice bathroom. Recently Madonna gave a live interview from her bathroom (well, why not?) and to the surprise of the online viewers what appears to be a rat ran past!
This doesn't change the fact that it's a very grand bathroom and one filled with plush furnishings, a roll top bath and even furniture and cushions, for relaxing outside the tub as well as inside.
If you really want to see #RatGate to make your own judgment then watch the video below (Enter rat stage left at 9:55):
The World's Most Expensive Bathroom?
If you're a jeweller then you have shiny things surrounding you all day. It must become addictive and you'd need to have them everywhere you go, right?
Well if you're Lam Sai-wing and you own a Hong Kong jewellery shop then apparently you need jewels in the bathroom too.
The £2.4M bathroom has 24-carat gold basins, toilet and even toilet roll holders. What's more, the ceiling is decorated with rubies, sapphires and emeralds!
It's alright for some!
A Bathroom Fit for a Gangster?
If you're a gang warlord then you have a lot of money and presumably a lot of stress and worry. It would make sense to have a beautiful bathroom to unwind in, right?
Well in the iconic film Scarface, Al Pacino is seen in one particular scene in one of the most lavish bathrooms in film history. The huge bath set in the middle of the room is no film set though – it's actually real. You can even rent the mansion… if you have $30,000 to spare for a month's stay!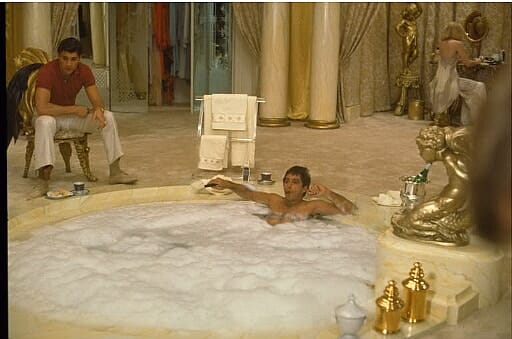 Filmmaker Turned Bathroom Creator
When you spend all day filming Hollywood movies you can become accustomed to luxurious scenes and amazing sights. It must be difficult! But of course, if you make it big you can afford to recreate the scenes in your own home. Michael Bay did just that.
The Los Angeles home of Michael Bay not only has amazing views but also has a bathroom that makes the most of them too. Imagine showering in the morning and seeing that view…!
Kate Winslet Likes to Decorate With Ornaments
Most people enjoy looking at stylish, well-placed ornaments in your bathroom. Well-matched trinkets and memories, shower gel containers or even some flowers really do set off the bathroom.
But if you're a Hollywood star you have to go one better, and Kate Winslet certainly does that. Most stars put their awards in a cabinet or on the traditional mantelpiece but not Kate Winslet. She keeps her Oscars in her bathroom!
We're guessing she practises her next acceptance speech in the mirror after a long soak… well the acoustics must be fabulous, darling!
Designer bathrooms for modern life…
We like to give you some really useful tips and tricks for bathrooms here at Alan Heath and Sons. If you want to know more about bathroom design and what you can do with a little inspiration then pop into our Coventry bathroom showroom and get talking to us.
We can't promise gold basins (although Vitra do offer one in their range) or Oscar cabinets or even emeralds, but we do have the finest bathrooms (sensible) money can buy..