Our customers are often surprised when we show them what we can do with the design of a small bathroom. It's forgivable to think that a small bathroom is limited and that you can't have more spacious relaxing designs and good storage – but you'd be wrong not to investigate it further.
Some small bathrooms can actually just feel small. When you work on a few areas you can lighten that heavy, closed feeling and make it grow… in your head anyway. But that's important. After all, what you see and feel are linked and that's very true for space in your home.
Here are the eight effective ways to make the most of a small bathroom design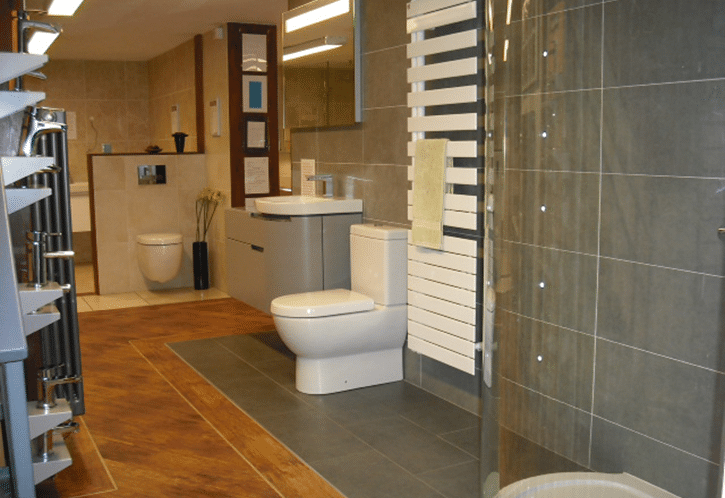 1. Create a great a focal point
In a small space it's important to avoid clutter. Lots of items will look messy and give your bathroom the feeling of being cramped. Instead, create one really good focal point in your bathroom and leave the rest free and simple. This will draw the eye to only one place and make the room feel more airy and spacious.
2. Use wall-hung storage
Units that are secured to the floor will make your bathroom feel small. It sounds crazy, but being able to see under your units will help your eyes flow, and the space under the units makes for more floor to see. Using wall hung units (even if they're only a few inches off the ground) can make your small bathroom seem to grow in size.
3. Lose the frames on your shower doors
You may have seen glasses without frames. By simply removing the frames from our glasses we're able to get a lighter look to our face. The same theory can be applied to shower doors.
When you think about it, a shower door is possibly the largest component in your bath or shower room. So making it invisible would create the feeling of space. Well, most of the shower door is invisible. The glass is transparent, so a frameless door works wonders.
4. Size up on your tile sizes
Larger tiles can make your bathroom feel more spacious. Don't go too big though, as then they dwarf the wall. But a larger tile will need less grout and that means less lines breaking up the wall and this will give your walls a bigger feeling. Be careful of colours and type of tiles though. Read our recent post about choosing the right tiles first.
5. Make the most of your lighting
A dark and dingy bathroom will certainly not invite you and it won't look spacious either. Good lighting is underrated. Replacing your bathroom lighting will brighten the whole room up and you'll be surprised how much more modern and new your bathroom will look with some good quality LED lights. (They'll save you money on your electric bills too.)
6. Stick to one style of metal in your bathroom
Try to stick to one style throughout your small bathroom. It can be just as messy as having too much clutter. Choose the style that suits your bathroom best and replicate it on your door handles, units and furniture.
Having a simple colour scheme works wonders on the tiles so follow it through on your metal items too.
7. Be careful with using too many colours
Don't go crazy with colour! Too much colour is too much for the eye in a small bathroom, so this creates added noise that your space simply can't cope with.
Go for a simple, subtle colour scheme in a small bathroom. If you want to feel relaxed and soothed in your bathroom then choose a colour that you would associate with that feeling.
8. Look up (there's space up there!)
Don't forget to look up! It's always amazing how surprised people are when they see a tall narrow unit and fall in love with it. They look really elegant and because they make use of the space up above they create space in a small bathroom.
As we mentioned earlier, clutter is a real criminal in a small bathroom, so clever storage like a tall unit is essential in the battle for space. Unlike some of the other options here, this will actually give you more space and organise your bathroom more effectively.
Small bathrooms don't have to feel small
Space-saving ideas and delicate touches can transform a small bathroom into a room with a relaxing feel and spacious surroundings. Don't clutter, go easy on the heavy colours and consider re-tiling or going frameless or hanging.
Need more inspiration? There are lots of options in our Coventry bathroom showroom near Warwickshire where we're always happy to help.