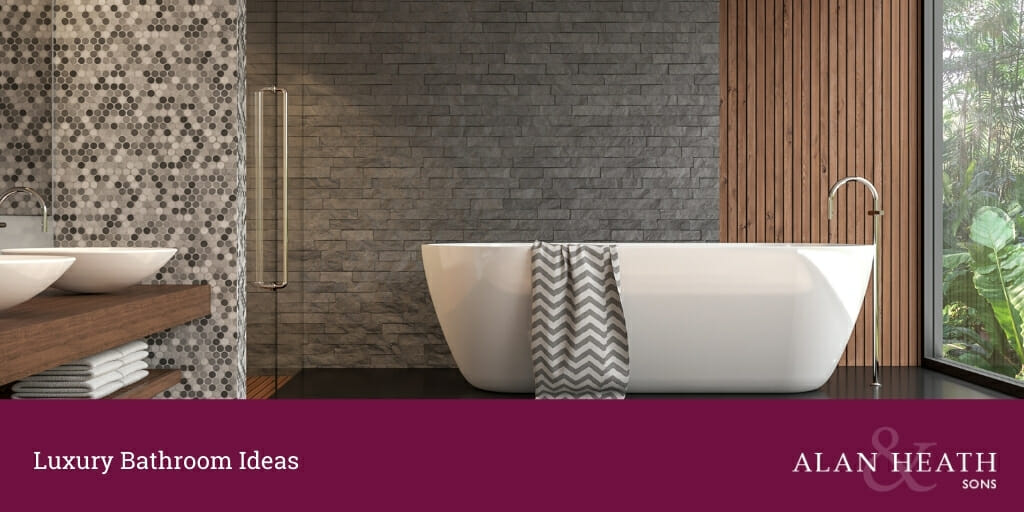 Sink into a bubble filled bath, surrounded by luxurious features and calming natural finishes. Enjoy beautiful sunshine or the gentle tones of subtle lighting. Create a private spa in your own home and indulge yourself with the bathroom of your dreams. Sounds ideal, doesn't it?
If you want to turn your bathroom into your haven, we'll help you achieve the perfect boutique look. A bright, clutter free space with neutral tones, a crisp designer suite and natural textures, worthy of any spa.
A bath to sink into
Every spa needs a hot tub where you can sink into deep warm water and indulge in a long soak. We love a bath that is a feature all of its own, such as the stunning Lincoln from Adamsez. The traditional slipper bath shape is ideal for lounging, while the option of adding a copper-toned finish is both on trend and adds richness to the room.
Of course, if you really love your hot tub, you should consider a whirlpool bath for an authentic spa experience. Turn on some tunes and lie back as the jets massage your aching muscles.
Stylish basins
A stylish basin in your bathroom helps to add to the luxurious ambience. A bright white or stone countertop basin on top of a natural wooden topped vanity unit makes a striking feature. Consider the Outline range from VitrA which offers a choice of shapes and neutral tones for a discreetly modern effect.
Finish your look with a modern freestanding tap. No longer just functional, taps are designed as an accent to your room. Try the Grohe Allure in copper to set off your basin and add a highlight to your copper bath.
A decadent shower
Whilst the type of shower you choose depends on your water system, we're sure we have something to suit your tastes. The ultimate in luxury, start your day with a digital shower that allows you to set the temperature remotely, so you step into an invigorating cascade of hot water first thing. Try a dual shower, with a rainwater shower head and a convenient handset, from Mira.
Discreet toilets
Your toilet may need to be functional, but that doesn't mean it can't still look great and suit your design. A wall-hung or back-to-wall toilet means that all the pipes and cisterns are hidden, which looks fantastic in your sanctuary. Consider the range from Villeroy & Boch, who offer a huge range of high-quality choices including rimless toilets for easier cleaning and shower toilets that incorporate a bidet function for the ultimate in hygiene.
Clutter-free storage
Creating a spa-like bathroom means that all the clutter should be out of sight for a clean, fresh feel. That means keeping it below eye-level where possible, or sleek and minimal where wall cupboards are a necessity. Consider the beautiful Sento range from Vitra which combines minimalism and natural wood for a simple and on trend Scandi feel.
Finishing touches
The finishing touches to creating your bathroom retreat are all about adding warmth and texture. Have a look at unfloor heating from Warmup for hidden luxury, or a designer heated towel rail that is both functional and decorative from Zehnder.
Your flooring can be the all-important touch that sets the tone, with luxurious stone or zen-like faux wood floors from Karndean, adding a tactile and warming tone to your room. And finally, the right lighting creates the mood. Choose discreet mirror lighting from Hib, or statement ceiling lights from Bathroom Origins.
We understand that creating the perfect luxury bathroom can be overwhelming. We have even more stockists in our showroom than we've mentioned here, so it's definitely worth coming to visit. Each one has been carefully chosen for their high-quality products.
So, if you're lost between basins and not sure whether to choose wood or stone for your wall tiles, speak to our knowledgeable design team. After all, no one knows the products we offer better than us.
We'll work with you to understand the ambience you're after, and then we'll be able to suggest options that suit your space and create the luxury bathroom you've been wanting for years.