When we talk to customers in our bathroom showroom in Coventry we often get asked about small bathrooms. "Can you do anything with a small bathroom?" It seems to be a popular question and the common misconception is that a small bathroom can't be a designer bathroom with all the trimmings.
Just because your bathroom is small doesn't mean you're limited with your choice, and it certainly doesn't stop you from having the bathroom of your dreams – albeit in a smaller space.
There are many things to consider when designing a small bathroom and here are some of the things to focus on:
Usability
Above all else a bathroom is a functional room. What looks great in a showroom may not look work as well in your space at home. Always consider your space and the furniture that you choose.
Think about doors into your bathroom. Imagine trying to navigate around that stunning sink and not bumping into your new shower door. Beautifully designed wall units need to be accessible and offer the ease of use at the same time. Don't forget your wall-hung friends like the humble loo roll holder! They all take up valuable space even though they offer an much-needed service.
It's all about the entrance
The true 'wow' factor comes from that first walk into your bathroom when you open the door and survey the view before you. Having units and furniture that flow away from you towards the outer walls will give the illusion of space. (Just think Moses and the sea!) Play around with curves and think about the shower in particular. A curved door that flows will draw the eye into the room better than a square shower cubicle will.
Wash away the corners
Just as curved shower doors allow your eye to flow into a small space, a curved sink will feel less imposing on the room. A softer curved basin will draw the eye away from the front and you don't even need to compromise on the basin's capacity in most cases.
Clever Storage
There's nothing that says small and cramped more than a cluttered bathroom piled high with hygiene and beauty products. Intelligent bathroom storage will give you more space but also create the feeling of space as you won't feel cramped or at loggerheads with your visuals. Keep your bathroom organised with wall hung units. A simple basin with a built-in unit is an excellent use of 'dead space'.
Buy for your bathroom not from the showroom
We sometimes find that people want a suite or furniture they've seen that simply won't work in their bathroom. Considering the size and shape of your bathroom is essential in the planning process and you should always start with your bathroom's size and aspect rather than choose units you like and try to make them work with it. There will be a better alternative for your space and requirements, and a bathroom that functions better will ultimately be a better bathroom design in the long run.
Hidden cisterns don't save space every time
One misconception is that a wall-hung toilet will save space. This quite often isn't the case, as the cistern needs building into your bathroom by boxing and hiding it from view. This can eat into your floor space.
However, depending on the layout of the room it can visually look as though you have more space. It can give the illusion of space because you can actually see under the toilet. This will create the space in your eyes and it will add a spacious feeling to your small bathroom.
Heated towel rails
These are simple and effective space savers. Dry more than one towel on your radiator and alleviate the need for a towel rail on your door or wall. Heated towel rails can also be sized your bathroom so that you won't need a radiator which saves even more space and they also come in an array of colours to suit your design.
Free online planners? You get what you pay for!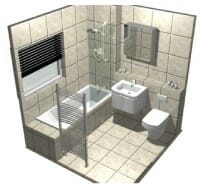 We're going out on a limb here, but we don't believe in the free online bathroom planners you can find anywhere on the web. There's nothing more simple than putting shapes within other shapes is there? We can all do that.
But what about understanding the functionality or the psychology of space? Even the 3D planners don't give you a real idea of how your chosen bathroom will work.
There's no accounting for experience and we have that in abundance. We're not saying don't use them; just don't be surprised when your new bathroom doesn't quite work the way you'd dreamt it would.
We're always happy to chat about space, basins, showers and cubicles. Whether you have a huge space or a tiny bathroom, come and have a wander around our working displays in our Coventry bathroom showroom and we'll talk psychology of space and wall hung illusions!