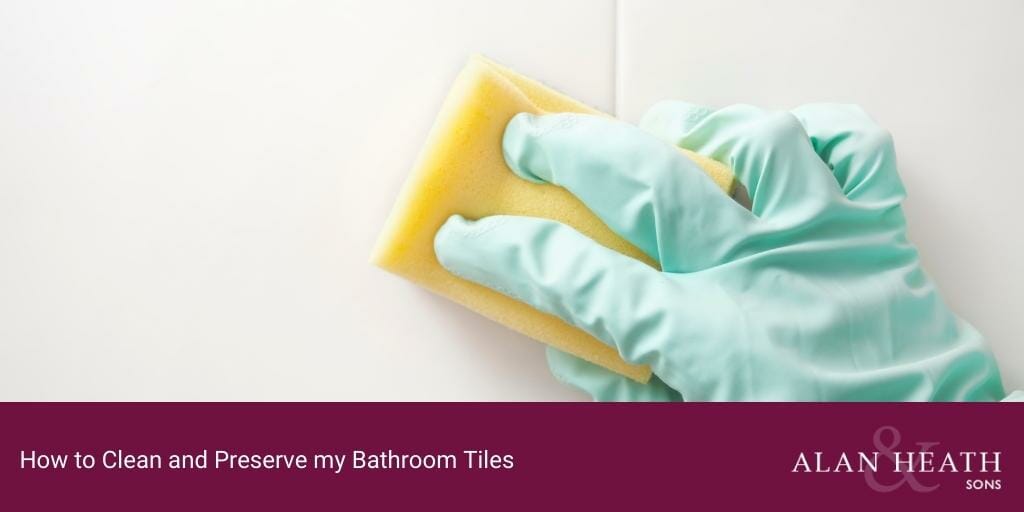 When you choose the tiles for your bathroom you'll be thinking about colour and style – creating the beautiful retreat you deserve. But the reality is that your bathroom will need cleaning and care to keep its shiny, sparkling surfaces. So, selecting tiles that are easy to maintain is a consideration too.
Natural cleaning for your bathroom tiles
Cleaning your bathroom tiles isn't just about hygiene. If you want to maintain a gorgeous looking shine, you need to take good care of them. There are plenty of chemical cleaners available in the shops, from all-purpose sprays to those specific to the type of tile you chose.
But sometimes the easiest options are the best. You can create a simple home cleanser that is cheaper, kinder to your surfaces than harsh chemicals, and better for the environment too. All you need are some basic household products.
A solution of three parts baking soda and one part water combines to make an effective paste that can be used on grout lines. Just layer it on, leave for half an hour so, and wipe off with warm water.
Mix together white vinegar and water, and you'll have a lovely sprayable cleanser that can be used on glossy tiles and glass. While it will dry nicely, always finish with a buff to avoid any water marks and leave your glass gleaming.
If the smell of vinegar is worrying you, add lemon juice or essential oil to your solution for a lovely natural smell. Lemon is also fantastic for tackling limescale, so if you're seeing a build-up, just run the lemon over it and leave it to work away for an hour before wiping off.
Cleaning tips for a sparkling bathroom
Once you have your cleaning solutions, tackle the grout lines between your tiles before working on the tiles themselves. Grout lines usually show marks first, and as they lose their freshly tiled whiteness, your whole bathroom can feel grimy. Simply use a spare toothbrush to get into the grooves and corners.
A toothbrush is also a useful tool on textured tiles, where the bumps and angles allow soap suds to build up and dry out. For ceramic and patterned tiles, use a soft cloth or a cleaning sponge. These types of tiles are also hardwearing, so can withstand scrubbing too, just avoid using a wire wool scourer. Polished tiles are much simpler to care for. Just spray on your cleaner and wipe away.
Natural stone is absorbent, so your bathroom tiles should have been treated before use. However, cleaning them can wear away at the sealant, particularly if you use a harsh chemical or acidic type, so you may need to re-apply a fresh coat every so often. This is another type of stone where it's best to avoid scouring pads in case you scratch the surface of the stone itself.
If you don't like the idea of chemical cleaners, and using your own solutions seems too much effort, a great way to keep your bathroom clean and hygienic is with a steam cleaner. Steam cleaners make cleaning your floor tiles much easier, as most act like a vacuum, so there's no need to get on your hands and knees.
Regular cleaning keeps things simple
It might sound like a lot of hard work, but the more often you clean your tiles the longer they will maintain their fresh new look. Bathrooms are a busy area, with the whole family using them every day. That's a lot of water, steam, soap suds, and shampoo hitting the tiles.
One easy tip to stay on top of it is to put a small squeegee in the shower. Then, every time you finish just give the walls and shower screen a quick rinse and wipe with the squeegee to remove most of the build-up. Your weekly deep clean will be a lot easier and quicker.
If you need help in choosing the best tiles for your bathroom, we're happy to help. Visit our showroom for some ideas, and our designers will be happy to answer any questions you might have.