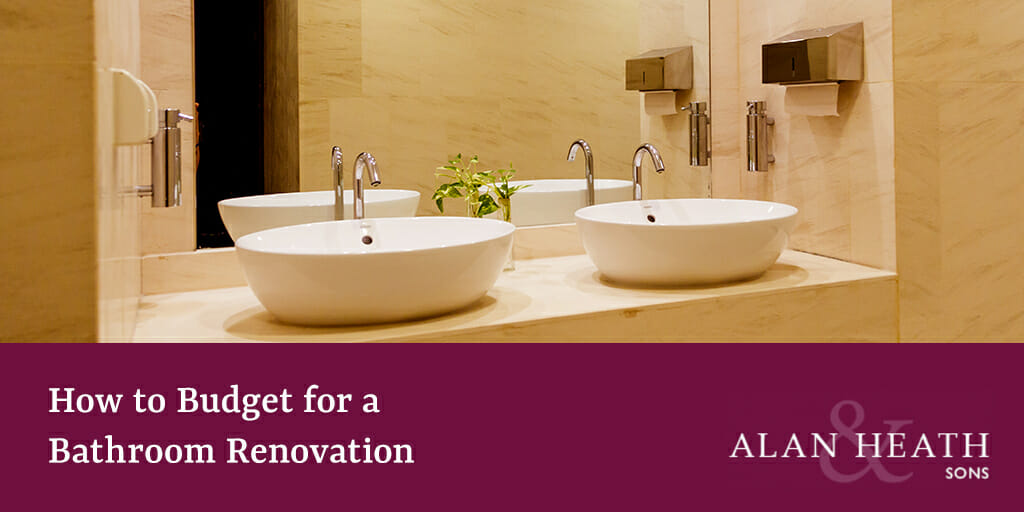 When you're working out how to budget for your bathroom renovation there are a number of costs to consider, some of which may not be so obvious. So, a good starting point is to consider the kind of bathroom you're looking for first.
From budget to luxury
There are a few questions you need to ask yourself. Is this bathroom a quick fix, or one you'll be using in ten years' time? Are you renovating a rental property or a house you intend to sell for a profit?
Why is this relevant? When you're renovating your bathroom, you need to think about the end user. Tenants generally take less care of a rental property than they might their own, especially if they are short-term renters. Landlords who have a quick turnaround can therefore expect to be touching up damages more often. As a result, they'll want the bare essentials in a rental bathroom, something basic, white and easy to clean.
A developer who's furnishing a house for profit will want a bathroom that's marketable, has luxury appeal, but isn't using high-end furnishings. Bathrooms and kitchens are two of the most expensive rooms in the house to renovate – and therefore most important to potential buyers. A newly renovated room will therefore have more appeal, as one they don't have to update themselves.
Then there's the homeowner, updating their bathroom for their own family use. A budget focused homeowner may use cheaper goods, but this can become more expensive in the long run. As the saying goes, buy cheap, buy twice.
Spending more on a quality product means higher costs now, but if you take care of it, you'll still have a bathroom you love in years to come.
How to estimate the cost of your new bathroom
When it's time to estimate the cost of your new bathroom, it's easy to assume the most expensive part will the suite itself – a basin, toilet and bath. Unfortunately, it's not quite that simple.
Let's take a look around your ideal bathroom and consider the luxury level you would love. Do you want a combined bath and shower, or a separate shower cubicle? How about a walk-in shower – a choice that's becoming more popular.
Then there are the taps, shower heads, heated towel rails, mirrored wall units, and shelves. Glass doors or shower curtains. Would you like your mirrors to be illuminated, steam free, or have USB and charger attachments for shavers and electric toothbrushes?
For every feature and accessory you add to your bathroom, of course the cost increases. And that's just the parts you can see.
The hidden costs of renovating your bathroom
As the accessories in your bathroom become more complex, so will the amount of labour involved in fitting them. Electricians for lighting, power showers and chargers, plumbers for piping and waste, plasterers and tilers.
However, there's also the costs of parts that you won't even see to add to the price. Wiring, copper and plastic pipes and fittings, plaster, studwork, timbers, electrical switches, back boxes and a skip for the waste – we would estimate that easily 20% of your budget will go on items that will be hidden behind the walls and floor.
A realistic quote
As you can see, planning your bathroom budget is not straightforward.
If you search online, you'll find plenty of forums discussing the subject. But remember, this is not likely to be a fair representation of the marketplace. Homeowners who have spent larger amounts on luxury renovations are less likely to be sharing their final costs online.
The best way to estimate a budget is to speak to one of our experts. Our designers are experienced in renovating bathrooms from removing the original fittings down to the final polish of your new taps, so we're able to consider every aspect.
Pop into our showroom – we'd be happy to give you a realistic quote for the bathroom that's right for you.