Creating a new bathroom is something we all have on our list of things to do, isn't it?
A bathroom can be the mitigating factor in a successful house sale, the hub of a happy home, and the best way to start a great day.
Modern, designer bathrooms give you more choice and more luxury but with all those options come a cost… but is it a cost you can afford? There's now too much choice if anything! How much does a new bathroom cost?
At Alan Heath and Sons we create bathrooms for all sizes and budgets so we thought we'd share with you some of the common mistakes and misconceptions that come from bathroom budgeting and building.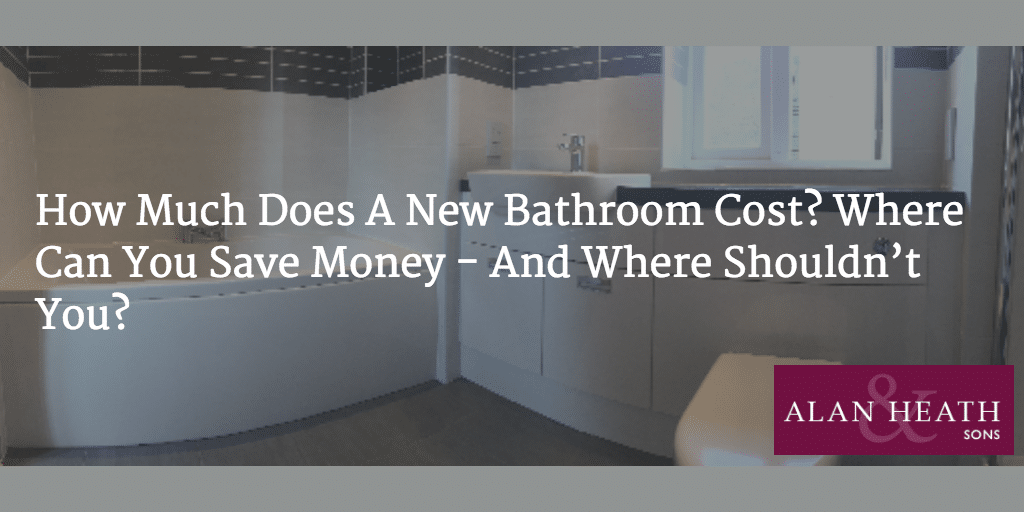 What's the most expensive part of your new bathroom design?
Many think that the bath or tiles are the most expensive part of a bathroom – or maybe all the extra building work. All of those answers are correct but for different reasons and circumstances.
If you're planning a large and luxurious bathroom with a high end product like Villeroy and Boch then the suite could be the most expensive component. High quality comes at a price after all.
Then you should take into account that free-standing baths are more expensive than standard baths, large shower cubicles are understandably more expensive than smaller ones, and added extras like digital taps will all add to your budget.
However, if you're renovating a bathroom and you're choosing a less expensive suite like some of the Vitra range then your biggest cost could actually be the labour. The best way to reduce your labour costs is to reduce the work for the re-fit of renovation.
One example would be to only tile part of the room rather than all of it – or by not moving your existing plumbing.
What are the most important parts to factor into the cost of a new bathroom?
This depends on what you want from your bathroom.
If you want a luxurious and high-end bathroom finish then the products will be your most important part. As this is your main aim for your bathroom it makes sense that the finish shouldn't be compromised when you're planning the budget.
But if you want a well-functioning and long-lasting bathroom then the planning and fitting is very important.
We think it's a combination of both of these.
The installation and planning will make all the difference because expensive designer suites and products that are not fitted properly or poorly will look awful, but if you choose really cheap products (even with a well-planned bathroom), it just won't be as good as you'd have hoped.
Where can you save money when planning your new bathroom?
Go through your specifications for products, suites and installation.
So as we've mentioned already, half tiling or partly tiling your bathroom instead of fully tiling will save you money on labour and materials. On the walls that don't need to be tiled, you can still use a tile as a skirting board. It looks very modern and is a nice touch too.
To save money why not consider using vinyl on your floor instead of tiles? This will save precious money on your budget, but be warned – it won't look quite as good and will show signs of wear and tear more quickly.
Reducing the size of the basin and vanity unit will decrease your overall budget, too. An 800 or 1000mm wide basin and combination unit will add extra character and storage but will cost you considerably more.
Conventional toilets save you money over more modern wall-hung toilets. Choosing a more conventional close coupled WC where the cistern is on show will save you money in both costs of the product and costs on the installation.
Chrome or stainless steel towel rails cost a lot more than white or even coloured ones. It's often on top of the wish list but when it comes to the crunch will it work better and give you an overall better bathroom? That's down to design and choice, but for the function it does exactly the same job although the heat output of chrome or stainless steel rail is around a 1/3 less than the coloured ones!
Underfloor heating is a really nice touch and a quick flick of the switch will warm your feet on a cold winter's morning. But, if you're looking to save money then not having underfloor heating will save you 100s of pounds.
What's the most common place to save money that fails?
Saving money on the products is a good idea but don't scrimp too much. You don't want your bathroom suite to fall apart in a few years. Buy cheap; buy twice!
This is especially true for the tiles. Many people see cheap tiles as a good win for your budget but cheap tiles can crack and go dull very quickly. A cheap tile will have more imperfections and is more prone to crazing or cracking. The tiles could even be thinner to help bring the cost down.
Basins and vanity units, which quite often are a big part of the feature of the bathroom, should be good quality and not somewhere you should save money on – especially if they have a nice illuminated mirror or cabinet above them. All these extra add-ons need to be built well to stand up to modern, busy lifestyle. Cheap toilets will have cheap internals which will be the part that fails first. The cheap toilets could also have poor water channels resulting in a poor flush.
Have you taken into account that if you need to call a plumber out in the future to replace the internals, the cost of the parts time added to the cost of the original toilet could be more than the more expensive toilet in the first place!
Cheap taps and fixtures seem like a good idea at the time but in the long run you'll use these more than most of the bathroom so they need to stand up to the test of time. Cheap taps have cheap components that won't have been tested or built as well as more premium brands.
Compromise and choice – it's a real battle of which!
There's no wrong or right answer here. It all boils down to what you want over what you can afford and what you can afford to save money on!
Less building work is less labour, but you compromise on your renovation.
Less expensive suites suit smaller budgets but might not last the test of time.
Vinyl flooring is cheaper but less appealing and not tiling your entire bathroom saves money but might not be the look you were after.
So… winning the Lottery aside, get your head together and work out what's really important for you and your budget.
We help people choose the best options and pricing plans and also show you what it'll all look like in bathroom CAD design too.
Come and see us in our Coventry bathroom showroom and we'll run through your options.