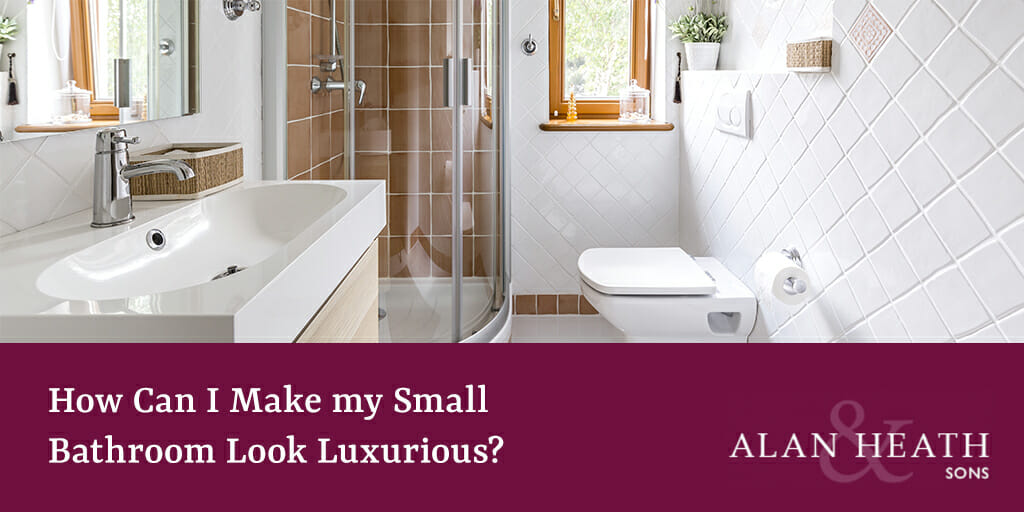 As the saying goes, the best things come in small packages. When it comes to your beautiful new bathroom you can still enjoy luxurious surroundings, even when you're lacking in space.
It's difficult sometimes to picture quite how to achieve a luxury feel in such a practical room as a bathroom, especially if your room is on the small size. That's where our expert bathroom designers are on hand to help. We've got some great design tips and tricks that can add some opulence or a little extra treat to the smallest room in the house.
Top tips for making a deluxe bathroom
As all interior designers will tell you, there are simple ways to draw the eye to particular features and change the viewpoint of a room through the use of colours or positioning furniture. It's not quite as simple to rearrange furniture in a bathroom, of course. But we have several other ways of changing the appearance of the room.
Choose a larger tile for the floors and walls. These can not only make a room feel more spacious, but generally a large tile feels more expensive and luxurious.
While we're considering tiles, look at the materials or appearance. A well-made faux marble can look just as opulent as the real thing.
Use a strong colour in your tiles – making a feature of them on one wall or even in the whole room.
Consider where you can spend a little more to add a wow factor. A designer heated towel rail is both practical and can be a beautiful or artistic feature too.
Storage is essential in any bathroom, especially one where you want the eye drawn to the towel rail and not the clutter. Make sure there's plenty of room to hide bottles and other products.
Every room is enhanced by the right lighting, and your bathroom is no different. Small or large, consider adding mood lighting to your bathroom for a truly sumptuous effect.
If there's one place that we know we feel most relaxed and spoiled, it's in a spa. And what do spas have? Calming background music! A truly luxurious bathroom might have built in speakers, but a discreet portable waterproof speaker could work too. Once you have some gentle music playing, you'll soon feel chilled out and decadent.
There's one more thing that makes even the smallest bathroom feel its best – and that's a thorough clean. Sadly, we don't all have a daily maid service, but just as in the most extravagant of hotels, a daily wipe down will keep your bathroom feeling luxurious – just the way you like it.
Expert bathroom design for small rooms
As always, our bathroom designers are happy to help you achieve the feel you want from your bathroom, no matter its size. At Alan Heath and Sons we've got plenty of ideas and fittings to choose from, taking your bathroom from practical elegance to sumptuous indulgence, whichever you prefer.
Call us today on 024 7669 1469 to make an appointment or visit our Coventry showroom to explore our range of high quality bathroom displays.