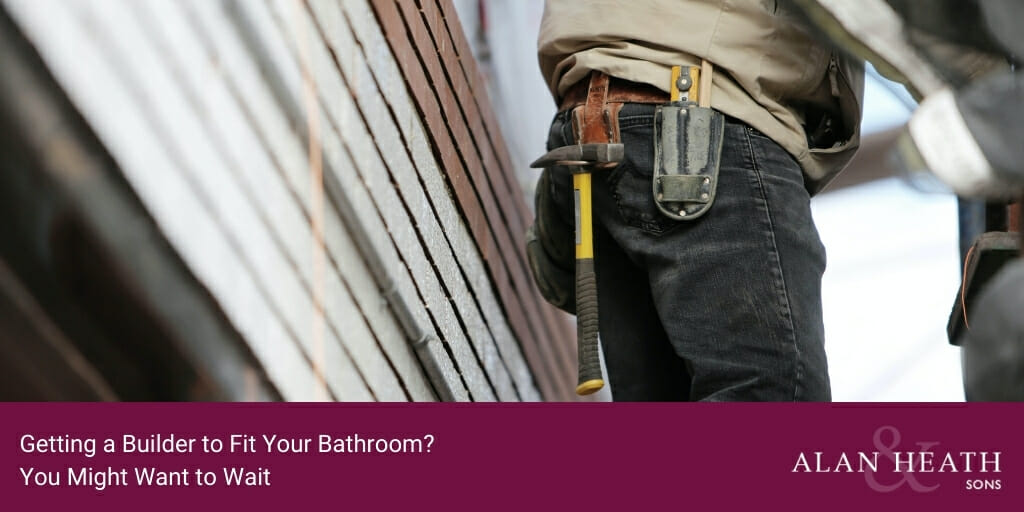 We're going to let you in to a little secret. It's one that you might expect from us – but that doesn't make it any less true.
Here we go. A bathroom fitter or specialist fitting company will generally do a higher quality job than a general builder.
We know. Of course, we're going to say that. But here's the evidence for our sweeping statement.
The difference between a general builder and a bathroom fitter
When you consider your bathroom refurbishment, you might break it down in terms of jobs. Plastering. Plumbing. Tiling. Electrics. And you're right, these are all involved in your renovation.
A general builder may have experience in all these areas. But they won't be as experienced as someone who only specialises in bathrooms, just as we are not trained in foundations, bricklaying or roofing.
A bathroom fitting team like ours at Alan Heath & Sons has built and renovated thousands of bathrooms. We've seen every size and shape possible, and we've found solutions to tight corners, fitted baths under sloping ceilings, and arranged waste pipes to have the best fall to avoid blockages and unpleasant odours.
We'll help guide you so that if the corner toilet you really want won't work, you'll understand why. We'll know which products are available to help if you're elderly, or want a luxury bathroom on a budget.
In essence, we don't just build a bathroom; we design them for your lifestyle and for longevity.
Fitting bathrooms is what we do
Fitting bathrooms is what we do. We are specialists in every aspect. So, why are we bringing this up now?
We understand that not every customer wants a complete bathroom refit. We have customers who visit the showroom to choose their products, or find out where to source that from, whether that be us or online, and that's all they want. And that's fine – we welcome every customer who would like to browse, and we're happy to supply the products only.
But we do hear the occasional customer suggesting that they can find a plumber, electrician, tiler, or general builder who can do their renovation a lot quicker, and who don't want to wait for the timescales we have available.
All we can say is that speed isn't everything. A builder might be able to start sooner, but they won't be able to anticipate the problems in advance that we would during our initial survey. They can't provide a clear design at the start and know that's what you'll get at the end, as they'll be reacting to issues as they find them. Their design will be generic, and not best suited to your space.
And – you won't get the same quality finish as you would from us. After all, the devil is in the detail. A bathroom isn't just a simple plumbing job, or a simple plastering job. It's one of the most complex rooms in your home. And it will last a good number of years, when done properly. We just want to make sure you get the room you want.
If you're considering a bathroom renovation and you want to be assured of quality, give us a call to discuss the options, and the timescales, on 0247 669 1469.