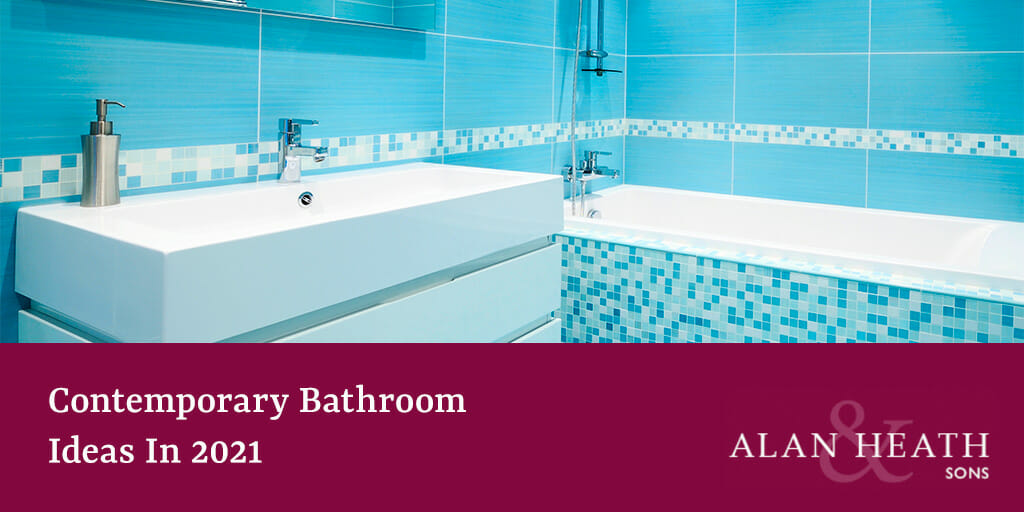 When fashion trends change so fast, it's hard to keep up with the times. So, when you're designing your new bathroom, you'll want something that's stylish, up to date, and set to retain its luxurious fresh feel for years to come. Here are our favourite top ideas for a beautiful contemporary bathroom that you'll love.
Bathrooms today are all about sleek boutique styling, a mix of luxurious fittings, and clean monochrome tiles with small pops of colour that make your room feel spacious and relaxing. The trend is moving away from purely angular designs and adding sleek curves and flowing shapes, so there's a range of choices available to fit your own style preferences.
Showers
Modern living tends to lend itself more to showers than long indulgent baths, and our bathrooms are changing to suit. If you have the space for a stand-alone shower and separate bath, or just choose to replace the bath altogether, you'll be on-trend.
Start by choosing your shower unit – there are electric, mixer and digital options with stainless steel and chrome effect showerheads. Or for a truly luxurious feel, go for a built-in mixer shower with concealed pipework and fittings. A spa-style rain shower head would look fabulous.
Your shower tray also gets a stylish new look. Choose from ultra-low profile to disappear into the room, or conceal it completely with a tray that can be tiled to match the bathroom. Finish the look with the ideal shower screen. While frameless options are streamlined and discreet, there are some fabulous new designs offering a unique shape or colour frame that turn your walk-in shower into a feature.
Baths
If you're a fan of a good long soak, you probably love a freestanding bath too. Modern options include sleek curved sides and twin ends, with taps in the middle. This gives you more options in where you position yourself and turn your bath into the main statement of the bathroom.
Even when space is an issue, you don't have to give up on your freestanding bath. Modern options come with a flat side to stand close to the wall, and a curved front so that you still get that sense of design.
Smaller bathrooms can still feel luxurious. With a shower bath, you can have the best of both worlds – plenty of room for your rain shower and a comfortable bath for bubbles.
Toilets
Keeping to the clean, streamlined finish, keep your toilet as discreet as you can with rounded cisterns and a white toilet seat. Even better, opt to conceal the cistern completely in a cabinet, which adds to the hotel feel of your bathroom and hides the pipework.
Basins
Depending on the space available, you might choose a wall-hung basin that gives the appearance of more room, while still offering plenty in style and function. Storage is always at a premium in a bathroom, so if you can fit a cabinet in as well, you could easily opt for a floating one. Your bathroom will still appear to be more spacious but offers more practical use as well.
If you haven't chosen to make your bath or shower the main feature, a large cabinet might be just what you need. With a sloping or angular countertop basin and large, freestanding mixer tap, you'll be right on-trend.
Walls and flooring
Walls and flooring are one of the main design decisions you'll make. This can be where you remain completely monochrome, with glossy whites or elegant marbles, or where you add a dramatic splash of colour.
Opting for larger tiles will help create that luxury hotel feel. However, there's a definite trend of boldness in the air, with more of us choosing bright tiles to create a feature in the shower area or across the bath wall. Rich dark colours can give your shower area a sumptuous feel, but make sure it's a splash and not overwhelming for a small room.
Calm, spa-like bathrooms are a popular alternative to hotel luxury, with natural textures, wooden cabinets and ceramic wood-effect floor tiles.
Finishing touches
Once the main decisions have been made, it's the finishing touches that help you create the effect you're after. Simple mirrors with backlights give a modern look while reflecting the rest of the room to give a more spacious feel.
Heated towel rails are practical and very popular, and there are some very modern designs to add a touch of style. At the moment we're finding coloured towel rails to be very popular, as the range of colours is large and there's something to suit every taste. And finally, although it's really one of the first things to be fitted, consider your lighting. Soft gentle glows make your room relaxing and peaceful, while bright downlighting keeps the bathroom bright and crisp.
Design help
A contemporary bathroom can be easy to achieve with so much choice available today – but if you're not sure where to start or feel overwhelmed with the choices, then ask an expert for guidance.
Visit our Coventry showroom for ideas, and to see many of the available furniture and accessories on display. You'll be able to get some ideas of how to achieve your ideal bathroom, and our design team will help you perfectly fit your ideas into your available space.