While you may not have spent much time thinking about the style of toilet you'd like for your bathroom, it can make a real difference to the space. From close coupled and wall hung, to low level and high level, there are many different toilet types to consider.
So, if you're planning a bathroom renovation now or in the near future, then it's well worth taking a look at the different toilet styles to work out how to make the best of your bathroom space.
Corner toilets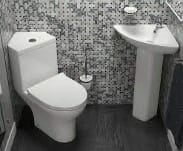 Corner toilets only suit a small percentage of situations and actually make a room user-friendly where a more conventional basin and WC would have been too cramped.
So, if you are stuck for space, then you may find a corner basin and toilet would help.
Wall hung toilets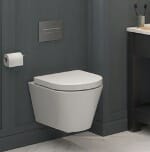 Another stylish toilet design, wall hung toilets create the illusion that the toilet itself is floating in the room. In actual fact, wall hung toilets – also known as wall mounted toilets – are held in place by a strong metal frame and suspended above the floor. They use a concealed cistern, which makes them a space-saving toilet, ideal for small bathrooms.
Close coupled toilets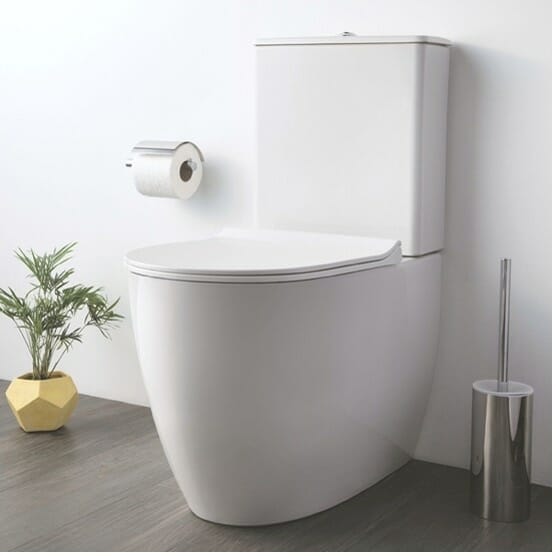 If you opt for a close coupled toilet, then the cistern will sit directly behind the main toilet unit directly attached to the wall. This means the cistern unit is not concealed. They are usually the most popular toilet design and are therefore readily available in modern and traditional styles. This makes them a versatile choice for a wide range of different bathrooms.
Another reason that close coupled toilets are versatile is because they can be connected horizontally or vertically, as well as facing the left or right.
Back to wall toilets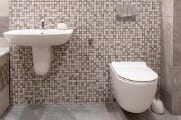 Featuring a similar design to close coupled toilets, with the exception of having a concealed cistern, back to wall toilets help you to obtain a minimalistic look. This gives you more room to add bathroom shelves, as well as creating the illusion of more floor space.
Also known as flush to wall toilets, they're another popular option for small bathrooms or downstairs WCs. Although you'd need to allow for an area to accommodate the hidden cistern and waste pipe, this is usually very manageable and well worth the effort for the stylish look that's achieved.
Short projection toilets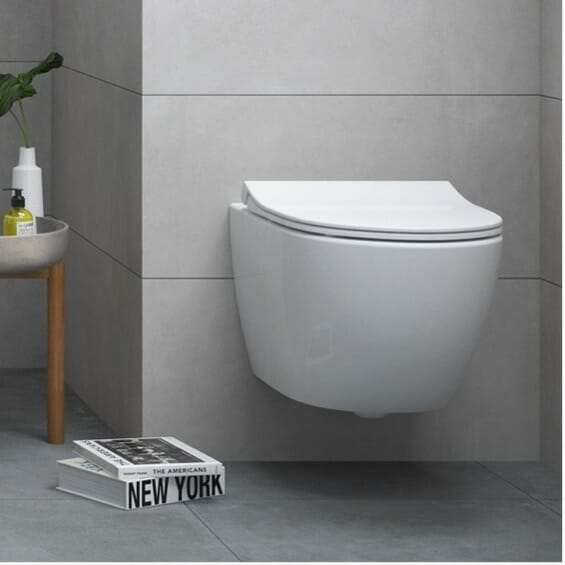 Short projection toilets don't protrude as far into the bathroom as most toilet designs. This style gives you more space in your bathroom and is therefore also commonplace in smaller bathroom spaces.
Combination units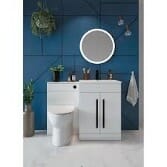 Featuring a toilet, sink and storage unit all in one, combination units achieve a neat and compact appearance while utilising the available space. They're therefore a popular toilet for small bathrooms. They usually feature a slim cistern too, offering a further space-saving solution for bathrooms.
However, the toilet and basin itself doesn't actually project less. So, it will depend on the look you're after, whether you're stuck for space and whether you're willing to compromise a little on space to get the functionality and potentially achieve an improved overall look.
Another thing to bear in mind if you opt for a combination unit is the size of the basin itself and the amount of storage space offered by the unit. Space-permitting, it's best to choose a unit that gives you adequate space in which to wash your hands.
This style of basin and unit is available in two sizes: 550mm wide and 450mm wide. The projection is only 380mm. Although there are smaller basins and units available, these units actually give a decent size bowl to be able to wash your hands in.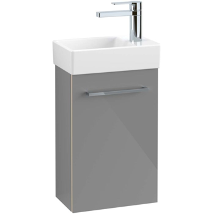 This unit is from the same range as above but is only 400mm wide and 200mm deep. With smaller basins and units like these, it's very easy to end up with more water on the floor or walls than remains in the basin.
Low level toilets
If you choose to have a low level toilet, then this will add a traditional element to your bathroom design. The cistern is fitted quite low down on the wall (hence the name), and the toilet features a lever flush, rather than a button. They are only suitable for solid or reinforced walls.
This toilet type is usually only used for jobs with small budgets, for rental properties and as workshop toilets.
High level toilets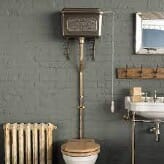 By contrast, high level toilets incorporate a cistern that sits high up on the wall. They provide your bathroom with an authentic look. Again, to fit a high level toilet you need a solid or reinforced wall.
How to fit a toilet
Be sure to measure the space beforehand and factor in the kind of plumbing connection that will be required for your preferred toilet type.
Whichever toilet type you opt for, bear in mind that you need to ensure the cistern is still accessible in case of plumbing issues. Back to wall and wall hung toilets will need flush plates and extra care will need to be taken to make sure the cistern can be accessed with ease.
The toilet style you select will determine how the soil pipe is connected.
What's a soil pipe?
A soil pipe is the pipe that facilitates the removal of toilet waste from your bathroom upon flushing. It's connected to the soil stack. It's important to check where the soil stack is positioned to help decide where you would like your toilet to be fitted.
Whichever toilet type you'd like for your bathroom, there's a number of factors to consider. Thankfully, our CAD designers can help you to visualise the space and discuss your options. If you'd prefer a fresh start and would like to change your entire bathroom, we also offer a full bathroom renovation service.