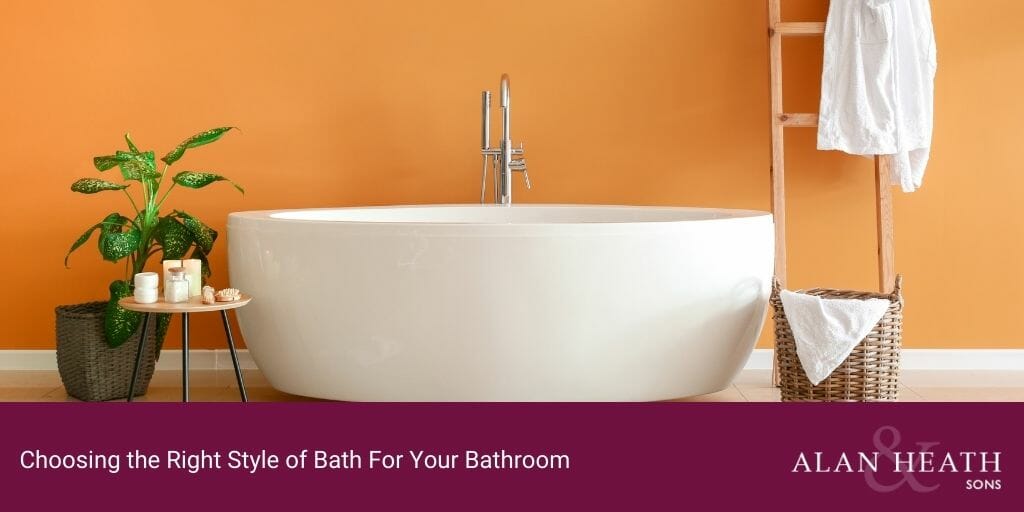 Your bathroom is generally one of the smaller rooms in your home, and most of the space in it is given over to the bath. That makes the bath the natural focal point of the room, and yet most of us have a standard white bath with some sort of panel hiding the pipework. It's not very inspiring or creative.
If you're planning a bathroom renovation, why not consider breaking free of the same old styles? There are plenty of varieties of bathtubs to choose from, making your centrepiece eye-catching, stylish, space-saving, or just practical. If you're finding your bathtubs bewildering, just read on for some guidance.
Freestanding bathtubs
If you have a large bathroom, you've got plenty of space for a luxurious tub where you can stretch out and enjoy your bubbles. There are lots of larger options to choose from, starting with magnificent freestanding baths. Freestanding tubs stand out in your room as a true centrepiece and can be decadently traditional or beautifully modern in style.
Because every part is visible, freestanding tubs are finished on all sides, which is wonderful if your design places this at the forefront. But remember that you will still need a waste pipe, so at least part of it will be above floor level.
They are also pretty heavy and get heavier once you add water and bodies. So, make sure your floor is up to the challenge before setting your heart on one.
Slipper Bath
The slipper bath is one that most of us recognise. There are modern options, of course, but we're most familiar with the Victorian style of beautiful feature feet. Slipper baths generally have one end higher than the other creating a place to rest your head. Smaller versions are available which take up less space by sitting you in a more upright position.
Roll Top Bath
The roll-top bath has curved edges that create a softer, more comfortable appearance. Typically very deep, the roll top bath is ideal for lounging and enjoying a long soak. You also have double-ended designs where the taps are placed in the middle, which are great if you want to share your bath.
Space-saving baths
When your bathroom is on the smaller side, you might feel restricted. But with so many choices on the market today, you can still find a way to blend luxury with practical elements.
Corner baths
As the name suggests, corner baths fit conveniently into a corner of the room.
Corner baths generally take up more space than others, as the corner of the tub is normally a seat. If you're stuck for space, we often suggest you put the basin one side of the bath and the toilet the other.
L-Shaped Baths
An L-shaped bath is a practical way of enjoying both worlds – a deep bath, and also plenty of shower space. Wider at one end, this shower bath means you can lay out and relax or jump in for a shower without banging your elbows on the shower screen.
P-Shaped Baths
The P-shaped bath is another practical shower bath, but in this case with an indented waist. This allows you plenty of room to stretch out, but generally use more water than others. This isn't normally a problem if the bath is mainly used as a shower but is definitely something to consider.
Luxury options
When you want to turn your bathroom into a spa-style sanctuary, your bathtub is more than a place to wash.
Whirlpool bath
Consider the whirlpool bath. With multiple jets and power options, your bath can become a muscle pounding jacuzzi at the touch of a button. This one will need power though, so an electrician needs to be involved in planning your renovation.
Steel or Acrylic – what is my bath made of?
Something else to consider is the material your bath is made of. Generally, baths are made from either acrylic or steel – although if you want something more unusual you can find stunning designer baths made from wood or stone as well. There is also another material quite often used. This will be some sort of resin or quartz. Villeroy & Boch use Quaryl which is a quartz product. It allows for very angular shapes which you can't achieve with acrylic or steel.
Acrylic baths
Acrylic is a type of plastic, which makes it easy to mould into different shapes. These baths are also cheaper to make. Acrylic is durable, and being plastic, it's also warmer. You'll find more options in acrylic than you will in steel.
Steel baths
Acrylic may be more widely available, but steel baths win in the beauty department. Their crisp enamel coating and strong shapes create some fantastic modern designs. Being a metal, steel is cold to start with, but once warmed up by your hot water, it will stay warmer for longer, so it's better if you're heading in for a lengthy soak.
Your choice of baths might be directed by space, practical elements or budget, but even within your limits you'll find there is a huge choice of baths available.
Whatever type of bath you'd like, you need to make sure it works with your new bathroom design. Thankfully, our CAD designers can help you visualise your space and discuss your options.