Buy cheap, buy twice?
Well maybe… in fact we've seen it happen in the past.
Buy cheap, save money?
Yes, you certainly will… but at what cost to you in the long run?
We're proud to be at the middle to expensive end. Yes, expensive can be a good thing.
We're not expensive to line our pockets though. We're more expensive that other companies because we do thing properly and we create bathrooms that last. The labour on a cheap suit is likely to be the same as an expensive suite… it's the same amount of work!
We do however always use the best materials required to do the work like the adhesives and grouts etc.
But then we're bound to say that, aren't we?
"I'm sorry but we can't help you. You don't need us to do your bathroom"
A few weeks back we had a lovely lady come to us in our Coventry showroom full of ideas and aspirations for her new bathroom.
We love this. We love seeing excitement for bathrooms… they really excite us too.
This lady wanted something quite extravagant and she had an idea on price. As usual, we listened and we heard all she had to say.
And then we sent her away without a quote.
This might seem odd but we didn't want to take this lady's money. What she wanted to do with her existing bathroom really didn't need doing and with some minor upgrades and home improvements she would have a great bathroom.
We turned down the chance to upgrade her entire suit. We didn't want to take money for something that wasn't going to look like she was expecting it too.  That's not our style.
We would rather have happy visitors to our showroom than ripped off customers.
"We're sorry, but we made a mistake"
Once a year we get a visitor come back to our showroom.
They came in once before but we were "too expensive" or "out of their budget" and they went elsewhere.
That's OK. We're really OK with it. We can't work with everyone's budget as we offer a certain quality and style and that does come with a price.
We get used to being told "no". But they come back!
Once or twice a year we get someone come back to us after they've had a bathroom designed and fitted by someone else. They had it created with their smaller budget and they lived with it for a few years… and they come back.
The reason they come back is that they're simply not happy with their bathroom or they need a new bathroom in a different property and they realised that their expectations were higher than their budget.
We happily help them create the bathroom they really wanted the first time around. We totally understand that not everyone sees it.
"Can you come round and quote? We chose the wrong builder"
Last year we were talking to one of our builders about an extension he quoted for.
He quoted £18,000 and the client said no.
It was out of their budget and they went with a cheaper builder.
A few months later the builder got a call from the same client.
"I'm sorry," they said. "Can you come and quote for the work? We made a mistake!"
The homeowners had been left with a building site and materials strewn all over their lawn as the relationship with the cheaper builder had broken down.
The builder quoted again… "It will be £18,000"
"What?" they proclaimed "but half the work is already done!"
The problem is the builder had to start again and the work on the ground could not be trusted and the job would need to be started again… properly!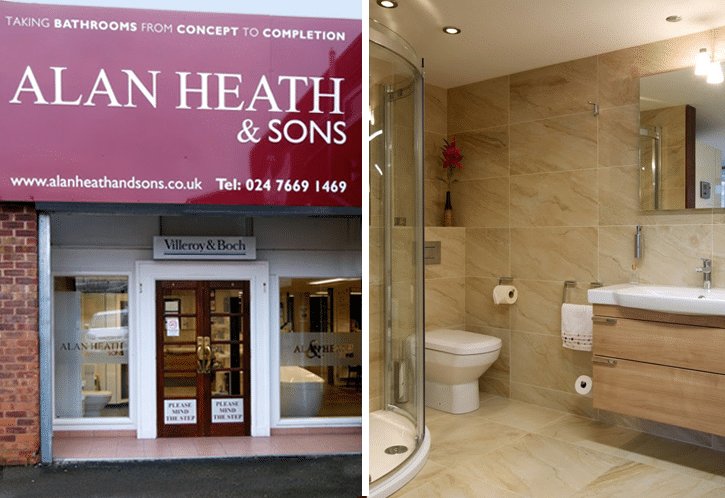 Buy cheap, buy twice? We certainly see that happen
From new bathrooms just a few years after they're fitted, to coping with broken parts and poor fitting for a lifetime, we certainly see the failings of having expectations higher than your budget.
Your bathroom goes through a lot and your home is your place to be tranquil, at peace and recharge after the madness of the 21st century.
Isn't that worth getting right and getting right first time?
We were recently told that bathrooms are like cars. They too have similar elements no mater what style, model or type you have. We add the interesting parts to your bathroom. The extra design and feeling that makes it more of a Jaguar than a Micra!
Alan Heath and Sons are proud to turn people away who don't understand this. We're proud to accept them back when they do and we're proud to be honest enough to stop people spending too much as well.
Come and see us for an honest chat and a quality cup of coffee. We promise to tell you like it is.