When you think about designer bathrooms it's often the style, the lines and the luxury colours and suite that you think of. But in this ever-digital world there are also a plethora of gadgets available for your bathroom too.
We can't seem to spend a minute without our technology and the bathroom is no exception. From music to the internet – we're seeing the technology and the bathroom combined more often than ever before!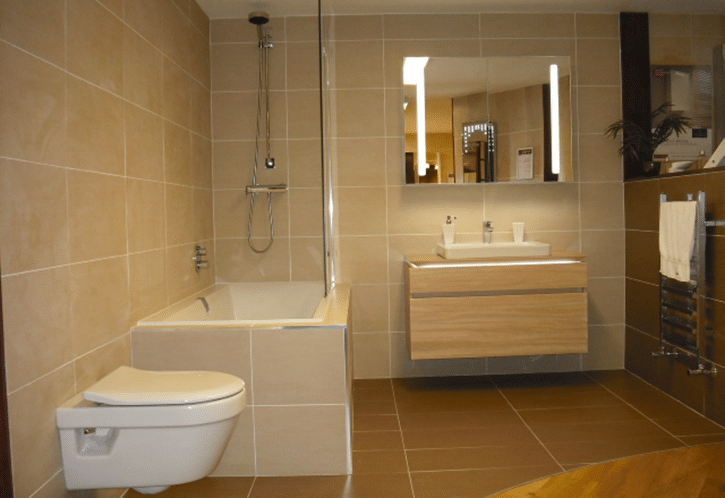 Here are some of the technological trends for modern bathrooms.
iPod baths – bathe and listen to your favourite tracks
Relaxing with your favourite music is a must. Mixing water with your iPod or iPhone is not!
We have a solution for this. With an iPod dock built-in to the unit our iPod baths are perfect for bathing and listening. Simply dock your music in the side of the bath and the built in waterproof speakers will play you relaxing music (or whatever you choose) while you relax in comfort.
HIB Bluetooth mirrors
This offers a similar idea, but with your mirror instead. This is a less expensive option than the bath with iPod docking. By using Bluetooth technology, the mirror can play your music while you're in the shower or bath – and that includes internet radio from your favourite radio app. This may be a cheaper option for those contemplating installing music speakers in the ceiling.
Steam-free mirrors
You know how it is. You have a long relaxing bath or shower and then go to look at your freshly scrubbed face in the mirror… and you can't see it! Forget the old wives' tale of putting shaving foam on the mirror – get a steam-free mirror.
Now Hib have a mirror that not only has the Bluetooth option but also a heated demister pad built into the rear of the mirror. This works much the same as your heated mirrors on the car – it helps you see where you're going (and what you look like when you go!). Say goodbye to frantically wiping the mirror to shave or put on your makeup in the morning.
As an added bonus there arealso rechargeable mirrors so you don't even have to hook up electrics to them if you don't want to.
Illuminated mirrors with built in sockets
You know in films where the actress is getting ready in the dressing room? You know the well light mirrors with the light bulbs around them? Well we've moved on a tad since then. Now you can have the lighting – without the light bulbs.
Illuminated mirrors are a great for adding extra light for shaving, putting on your face or simply creating a little bit of bling in your bathroom! Most of the illuminated mirrors come with bright LED lighting and also a shaving socket built in too.
Radio mirrors
Don't want the hassle of synching your iPod or smartphone to your bathroom mirror? Want the simple life? (Don't we all?) Then why not have a radio mirror instead? It's a simple way to get music into your bathroom without all the modern technical skills to do it.
Sounds simple, and it is. Simply tune in your favourite station and play it out through the mirror's built-in speakers. You'll never want to leave the bathroom!
Remote control hidden radios
That's enough smoke and mirrors – let's hide the music instead. There's a range of remote controlled radios that also work on Bluetooth that you can hide discreetly into the wall. This means you can keep your bathroom's minimalist look and still enjoy your favourite music while you're getting ready.
Tile switches – turn on lights like a Jedi!
If you're after real technological geekery then you're in the right place. Our range of hidden light switches are incredible and will surprise and amaze your bathroom's guests.
Light switches are so boring aren't they?! I mean, who wants to have to press a switch in when you can just hover your hand over a tile? Our tile switches are hidden behind the tiles in your bathroom and enable you to turn on the lights with magic powers. Become a bathroom Jedi or a shower room magician with this simple but amazing addition. They're hygienic too. (But the Jedi thing sold it for us.)
Tiles that shine a light on you
While we're changing the dynamic of the humble tile – let's talk tile lighting. We can buy some incredible lights and drill your tiles to suit. You can embed lighting into a wall, and they work perfectly in the shower too, creating a beautiful and memorable effect in your bathroom.
Digital taps – contactless water control
Digital taps are more commonplace in hotels and upmarket wine bars, but more and more people are now enjoying having them in their homes. With infrared sensors built in, these taps turn on by simply moving your hand near them or using touch pad controls. They're very popular with people who hate having finger marks all over their nice clean taps. There are also some very neat taps on the market that you can control from your smartphone. Hate walking upstairs to run the bath? Now you can do it from the sofa with an app synched to your digital tap! Amazing.
Digital underfloor heating
Underfloor heating is also becoming more and more popular. Heating your floor and allowing heat to rise up gives you a more consistent warmth in your bathroom. Also, because you won't need a radiator in most circumstances, you'll also be able to avoid having more pipework and also it will give you more space.
Digital heating can be controlled and programmed by a digital control on your wall (or anywhere that you wish to position it) and they can be a more economical option. Generally speaking, underfloor heating needs a qualified electrician to wire up the flooring.
So it looks like bathrooms are moving with the times at a blistering pace!
Although Alan Heath and Sons provide and fit traditional bathrooms, we also cater for the more modern and technically advanced bathroom owner too.
We don't believe that just because you're in the bathroom that your hunger for the digital world needs to stop. Of course, if you'd rather shut the world out when you have a bath or shower, we can do that too!
For more information about modern or traditional bathrooms why not pop into our Coventry bathroom showroom and speak to one of our team? We'll show you around some of our traditional bathrooms, and you can also road test some of our more geeky additions!