There's nothing quite like a brand new bathroom to give your home a lift. A fresh new bathroom greeting you every morning makes life feel different and makes your home feel improved and welcoming – who doesn't like a positive change?
But what if you can't afford a full bathroom renovation just yet? How do you make the most of your existing bathroom without breaking the bank?
We enjoy installing new bathrooms here at Alan Heath but we're also aware that the time isn't always right for a full re-fit. So here are our 8 ways to improve your existing bathroom and make it feel fresh and loved again.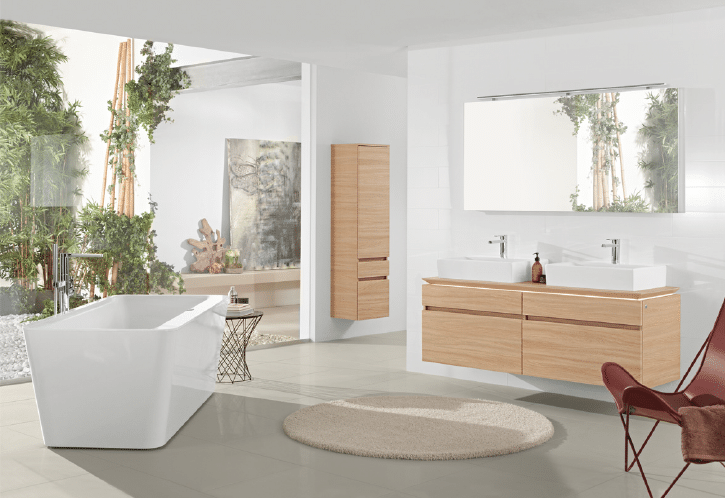 #1. Change the lighting in your bathroom
Now we're not just talking about the lighting in the ceiling here – we're talking about the entire light in your bathroom. Changing (or adding) light in your bathroom will lift it immediately.
Have you ever had a light bulb go in your bathroom? Makes a big difference, right? It can makea bigger difference when you put a brand new one back in too.
Changing the lighting to bright bulbs like LED spotlights or even a dramatic centre piece chandelier can change the dynamics and add much needed brightness to your bathroom – as long as the light fitting is suitable for a bathroom.
But you should also look at your windows. Make the most of your light. Change the blind or clear the window space. You need as much natural light in your bathroom as you can get. Often your window space becomes storage space, and this will interrupt your daylight.
If your window is not overlooked then you might consider changing the misted glass for clear glass, or you could change your bathroom door to have a misted top glass section.
Any extra light will count. Be clever with your natural and man-made light.
#2. Make more room – add storage
One of the most common reasons a bathroom is in need of help is the storage. Clutter in a bathroom can be a real issue for the look and feel. Look at changing your bathroom cabinets to bigger ones or building storage around your basin if it's wall-hung.
A popular choice for modern bathrooms are tall units. By using the height in your bathroom you don't need to take up more floor space to gain extra space to stow away those beauty products.
By changing the storage in your bathroom you will be able to de-clutter that window area too!
#3. Mirrors add depth and the feeling of space to a bathroom
Mirror, mirror, on the wall, who's the most spacious of them all?
Simply adding a mirror to your bathroom will add depth and give you a feeling of space. When your eye is blocked by a wall you feel like the room is small. When your eye catches a mirror your sight goes on and the feeling of space is created.
If you have a spare wall or a space for a simple mirror or a striking wall feature then go for it. Add that extra dimension to your bathroom.
#4. Give your bathroom a fresh lick of paint
Sounds simple… but then it is!
Changing the colour of your bathroom will have a dramatic affect on the overall look of it. Try out a new colour scheme, go crazy – add some colour. Go for bright and fresh colours like zesty green or ocean blue and see how you can transform your bathroom into a new and exciting space.
#5. Change your towels and coordinate the accents!
We don't mean just change them for the other set – buy a brand new set.
If you're painting the walls then you could match up all the towels, shower curtain, bath mat and even add some ornaments in the same colour. Again, keep it fresh and clean and you'll add light and wow factor to your old bathroom.
#6. Get a handle on your old bathroom
Changing your cupboard doors, drawers and door handles can make a quick difference to your bathroom.
Over time your units and door handle will have become stained and dull. By updating them you'll lift your bathroom units and add some sparkle back to your room.
#7. Does your bathroom smell OK?
No, we're not talking about the person in the house who doesn't open the window after they've been! We're suggesting you add smells.
Smells evoke memory and feeling in our minds. The power of scent is something that can take you back to happy times or lift your spirits. Why not do this in your own bathroom? By simply adding some scented candles or some long lasting flowers you'll add a hedonistic addition to your room and it won't cost you the earth.
#8. Want a new bathroom? Clean it!
Over the years, no matter how hard you try, your bathroom will become dirty, and this will make it look tired and old. If you've ever had your oven cleaned you'll know what a difference a deep clean can make.
Take a day to give your bathroom a real deep clean. Pay attention to corners and edges and take down blinds and shower curtains. Roll your sleeves up and show your bathroom some love.
Unless you're a serious cleaner you'll have probably just cleaned the same few important parts every week. Polish up your chrome, scrub your shower head, deep clean your basin and bath and get into all the cracks and crevasses.
Re-grouting your bathroom can also have a great affect on the clean look of your room. This is simple to do and not expensive but will bring your bathroom up a few notches.
So there you go… plenty of food for thought.
Until you're ready for a new bathroom just make the most of what you already have. Being thrifty is very 'in' at the moment and you'll be surprised what you can find at the local vintage fair too.
If we're honest, there's no replacement for a new bathroom. Changing your suite and re-tiling makes a huge difference. But until then… get creative and deep clean!
When you're ready for a new bathroom just give us call. We can advise you on the best design and layout and we'll give you the bathroom of your dreams.