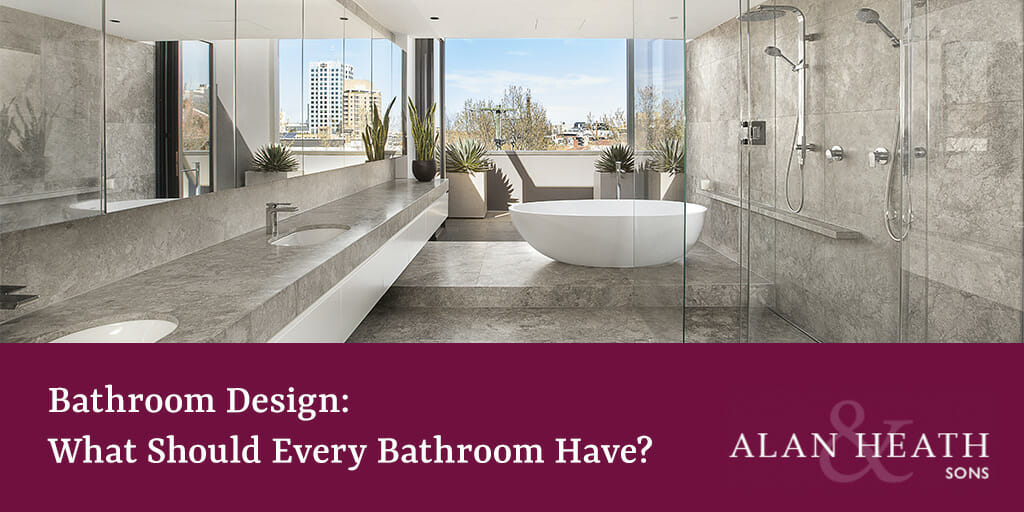 Planning a bathroom renovation can be very exciting. Naturally we all mentally skip through the building works and imagine the end product, lying back in our luxurious new bathtub, mood lighting set to low, and relaxing music playing softly in the background.
But before you leap into the bubbles, there are a few other essentials you need to add to your design so that your beautiful new room is both perfect and practical.
Practical bathroom design
Let's start with the room itself. Firstly, you'll want to consider the layout, which will be dictated to a certain extent by the space available and the furniture you want to include. Do you need a bath and shower combination, a walk-in shower, or no bath at all?
A quick search online will help you find some of the more humorous mistakes in bathroom designs, which include toilets with no leg room or space to close the door, taps that pour outside of the handbasin itself, and so on. Fun as they are to examine, it's also a good lesson in some of the simple things that we need to consider in a bathroom design.
Your bathroom layout needs to be practical, with plenty of space around the items that make them accessible, and it must be easy to use and easy to clean.
Then there are other things to decide. You'll need plenty of storage; supplies of bottles, cleaning products and spare toilet roll all need a place to live. Will you be having a shower curtain, or a glass panel over the bath? Is there room to swing open the panel if needed? As you stand in the shower, will you be in full view of the neighbour's window?
Essential bathroom accessories
A truly comfortable bathroom has plenty of other accessories to add in as well.
Do you need a mirror, or a wall vanity unit that includes storage? If you choose a plain mirror on the wall, you might need to consider the lighting in the room overall – there's nothing more annoying than trying to put make-up on when the light is all behind you. With an illuminated mirror you'll have the perfect view for make-up and shaving, but you might want to make sure there's a shaving socket close at hand – and somewhere to plug in the electric toothbrush as well.
Other bathroom essentials to think about in advance include:
Towel rail – heated or unheated
Toilet roll holder
Wall hooks for your bathrobe
Storage solutions for your extra toilet rolls, product bottles, and cleaning supplies
A place to tuck or hang the floor mat to dry
Toothbrush holders, soap dishes, or room for a soap dispenser
A shower caddy
A shelf for the everyday items – deodorant, hairbrushes, and hair products
Your laundry basket.
A place for everything
It may be that your bathroom doesn't need everything – but the more you add, the faster it fills up. And as you add more clutter your bathroom will feel smaller and less peaceful – detracting from that relaxing bubble bath you've been picturing.
Imagining everything in place may feel overwhelming, but that's where we come in. Our bathroom design team have been helping homeowners to achieve their ideal bathroom for over 40 years, so it's safe to say we've come up with solutions for almost every scenario.
If you'd like some design ideas for your bathroom renovation, contact the showroom today to book an appointment.
We'll consider the plans you have and make sure you've thought of everything, from where to keep the plunger to keeping your neighbours safely out of sight.