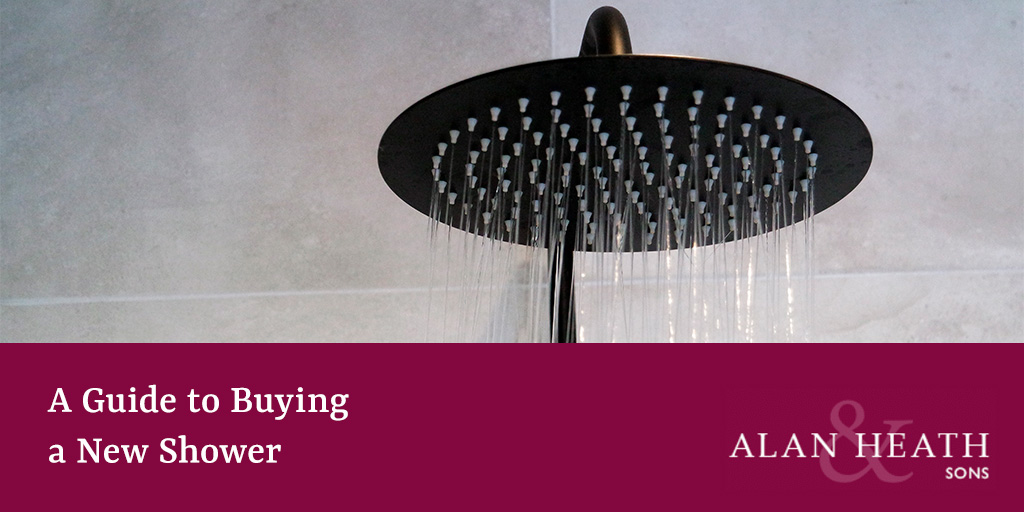 There's nothing like a long hot shower in the morning to wake you up, or in the evening to wash away the day. Showers are a big part of most bathrooms in modern homes. Getting the right one for your home is one of the key decisions in building your perfect bathroom.
Unfortunately, it's not quite as simple as finding one that looks good. The first step in choosing the best shower is to consider the water system that you have in your home.
Which water system do you have?
There are generally three water systems in our homes in the UK. Which one you have might impact on the shower you choose for your home.
Gravity fed systems
Most older homes will have a gravity fed system, this being the only type of system available years ago. Modern homes won't have them, as they are no longer installed.
The gravity fed system has a cold-water tank in the roof, which is topped up from the mains. This then drops down – via gravity – to a water cylinder in a cupboard. The higher the cold tank is above the water cylinder, the greater the head of pressure that is achieved.
Unvented systems
Unvented systems also have a water storage tank, usually kept in a cupboard upstairs, where the water is heated and stored until needed. This one is fed directly from the main water supply. As you turn on your tap, the mains water pushes into the tank, forcing the hot water out towards your tap. Therefore, the hot water feed depends on your water pressure.
In our opinion, this often gives the best pressure of the three systems – dependant, of course, on your mains pressure feed which can vary from region to region and even on the time of day.
Combi boilers
Combi boilers are more common in modern homes. The mains water feeds directly into the boiler, which heats water on demand. The water heats by threading its way through the boiler. This means that if the water passes through too quickly, it won't have time to get hot enough – the power without the heat. On the other hand, if the water must slow down enough to get hot, it won't have enough pressure for your shower – heat without the power. This means it's important to get the right combi boiler for your needs.
Choosing the right shower
When you understand your water system, you'll be able to start looking at the showers themselves. There are four main types of shower:
A manual mixer shower works by manually mixing together the hot and cold water flows.
The thermostatic mixer shower works in the same way as a manual shower, except that there is a thermostatic valve to keep the water temperature constant.
Power showers also draw on your hot and cold feed. They contain a pump that boosts your water pressure for a more powerful water flow. These work well added to a gravity-fed system, and the basic models look very similar to an electric shower. However, a better quality system adds the pump to the tank in your airing cupboard, which also allows you more flexibility in the appearance of the shower itself in your bathroom.
An electric shower works in a similar way to a combi boiler. It contains an integral heating element that warms the water on demand. A certified electrician would be needed to test and certify any electrics.
Of course, as with every other room in the house, we can now add technology to our bathrooms for a little extra luxury. Through digital controls, remote controls and even via mobile phone app or smart home system, you can now turn your shower on and set the temperature before you even step out of bed.
Achieving the best-looking shower
Once the mechanics of your shower have been decided, you can start thinking about appearances. Are you looking for a walk-in shower or a wet room, a cubicle or a shower over the bath?
There are plenty of styles to choose from when it comes to your shower head and valve controls – the visible components that will match your new designer bathroom. There's even an increasing trend towards black at the moment. But a word of warning – your black shower tray and screens may look fantastic, but they are much harder to keep clean. Plus, the limescale marks certainly show up sooner than on white.
There's a lot to consider to create the perfect shower for your home. That's where our design team can help you. We've fitted hundreds of showers over the last 40 years, so we're familiar with different water systems and how to manage pressure problems. We're happy to discuss the details of your colour scheme, too. Just give us a call today to make an appointment and our design team will be happy to help you.